Whether at the height of summer or in the depths of winter, an all-season patio makes any gathering—from beers and a casual bite with friends to an intimate dinner for two—feel extra special.
And luckily, for locals and visitors alike, our spectacular mountain region offers some of the best patio dining to be found anywhere in the province (some might say in all of Canada!).
Here are three local establishments that offer not only incredible patio environments but exceptional food, beverages and service that make any meal or impromptu hangout a memorable event.
Braidwood Tavern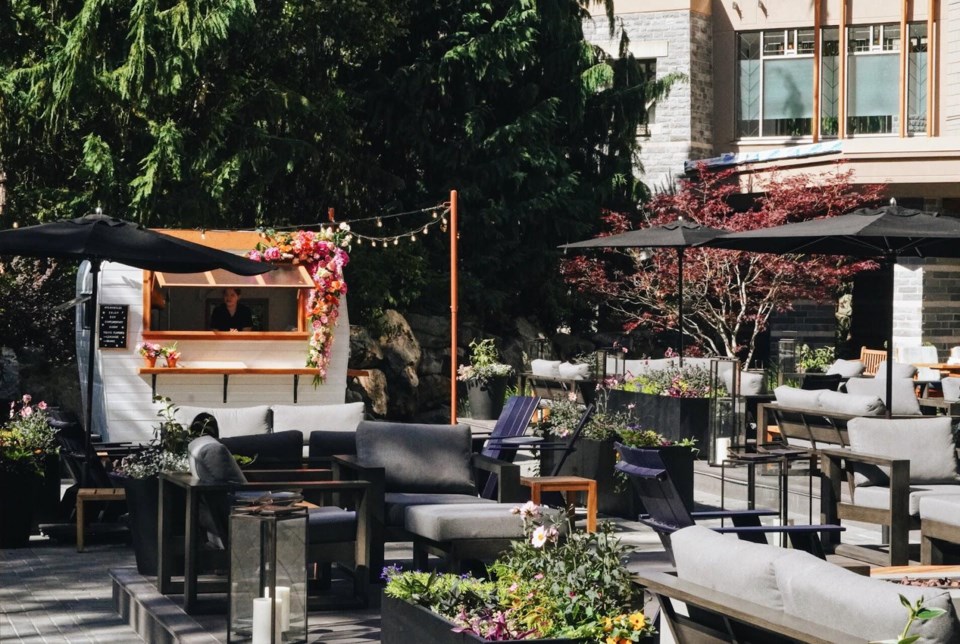 While most people think Whistler is synonymous with the outdoors and snow-covered slopes, its colder months are also about gathering inside with friends and celebrating the joys of food, drink and good company.
In that spirit, Braidwood Tavern was designed to evoke the look and feel of a classic mountainside cabin—all dark woods, intimate lighting and, of course, a fireplace.
The Braidwood's patio is equally suited to all-season celebrations, thanks to a warming fire pit, comfortable seating and picturesque views. Open daily for breakfast, lunch and dinner, the Braidwood's expansive menus offer something for everyone—from burgers and duck-leg poutine to entrée-sized salads, vegan curry and much more. Creative "après-ski" cocktails, more than a dozen locally crafted beers and Braidwood's signature prix-fixe El Patio Thursdays (featuring a four-course menu that includes unlimited servings of three types of paella!) ensure that guests enjoy a complete culinary adventure.
Visit braidwoodtavern.com to browse their eight—yes, eight!—distinct menus and follow their Instagram for crave-inducing photos.
Mile One​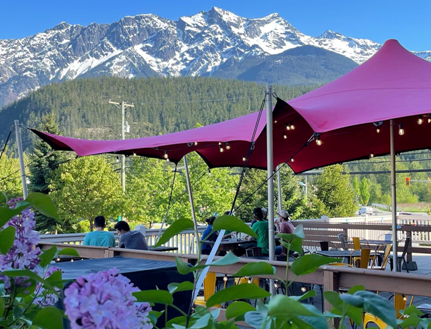 Since 2011, this Pemberton mainstay has fed countless locals and visitors with dishes that proudly showcase ingredients sourced from local farmers, fishermen, ranchers, winemakers, brewers and more.
Central to their all-day menu is a stellar selection of gourmet-calibre burgers, from the classic Mile One Burger (with white cheddar, smoked bacon and caramelized onions) to the Hillbilly Deluxe Burger (with venison chorizo and cheese curds), the Mr. Green Jeans vegan burger and many others.
But there are plenty of additional temptations to choose from, including a wide variety of creative sandwiches (try the Kimchi Rueben with smoked beef brisket), hot dogs, mac and cheese, and breakfast Bennies.
From your picnic-style patio table, feast and raise a glass while you soak up some of the region's most awe-inspiring views of snow-capped mountains and endless blue skies.
View Mile One's complete menus at mileoneeatinghouse.com and stoke your appetite with all the food photos on their Instagram.
Hunter Gather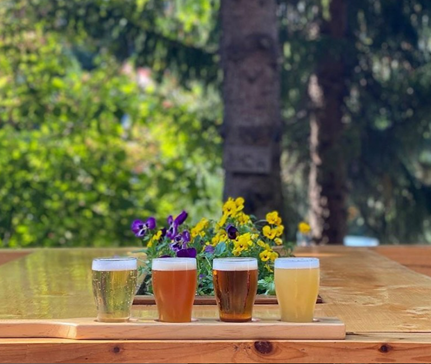 "Casual" is the keyword for this popular "eatery and taphouse." Place your order at the counter, retreat to the beautifully secluded patio at the back, and enjoy a meal (breakfast, lunch or dinner) expertly prepared with local, seasonal ingredients.
The menus here span the gamut, from a variety of handhelds (a spicy buttermilk-fried chicken sandwich, falafel pita, the signature Hunter Burger made with organic Pemberton-raised beef) to nourishing bowls (the Pemberton Bowl is a delicious and healthy showcase for in-season vegetables) and breakfast offerings that include more than half a dozen types of eggs Benny.
The beer and wine lists also favour local producers—and if you can't decide which to try, their bargain-priced flights allow you to sample four pours of your choosing. (Want something zero-proof? Even many of the sodas and kombuchas are from nearby craft producers.)
Discover more at huntergatherwhistler.com and their Instagram.