Best Artist/Artisan: Chili Thom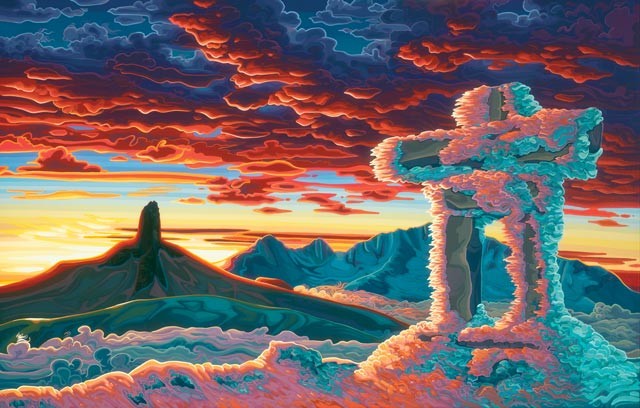 FILE PHOTO - Best Artist: Chili Thom
"Oh excellent!" is painter Chili Thom's reaction to the news that he was once more voted the Best Artist in Whistler.
His work depicts landscapes and seascapes, trees and pillowing snow, sharply coloured and with a unique style that have found favour with collectors.
He believes he has held the prize since 2002.
"It's been a while, 12 years or something. It's definitely an honour. It feels like any house I go into in Whistler now I see a piece of my artwork somewhere. It's very flattering and it goes to show that the subject matter that I choose to paint is something that pretty much everyone can relate to," he says. "I try to get new inspirations and shift my style."
Next year, Thom plans to travel to Iceland and Ireland, and is up for several "secret" projects that he currently can't disclose.
Two popular painters — Vanessa Stark and Andrea Mueller — round out two and three. Congratulations!
Best Art Gallery: White Dog Whistler Gallery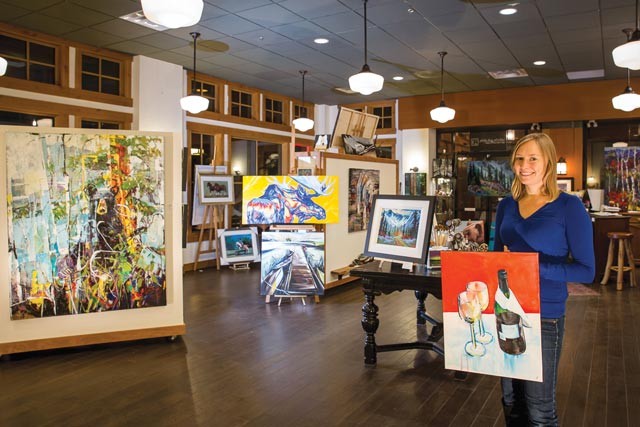 PHOTO BY COASTPHOTO.COM / BRAD KASSELMAN - Best Art Gallery: White Dog Whistler Gallery
Penny Eder was thrilled to learn that her gallery, the White Dog Gallery located at the Nita Lake Lodge in Creekside, got the nod from voters this year. She says she has tried to keep the artwork affordable.
"It has been quite a ride. I had had a dream of my own studio and working gallery for many, many years and as soon as I started out a couple of years ago, it has been full speed ahead," Eder says.
"It became way more popular than I ever imagined. What I had always thought that I wanted to bring was well-priced pieces to the masses, everyday people who don't want to spend $20,000 on one piece of artwork can get at least 10 pieces for that price."
She said she was also dedicated to representing the region's artists. Works from White Dog are also on display at the Scandinave Spa and the Nita Lake Lodge.
Three other galleries making the cut were Blake Jorgenson at Adele Campbell Gallery, the Squamish Lil'wat Cultural Centre and Art Junction.
Best Local Musical Act: The Hairfarmers
The Hairfarmers want to thank their supporters, better known as "the Farmhands."
Grateful Greg and Guitar Doug consistently rock out and interact well with the audience — fans have voted them best local act every year since 2001.
"You really have to love what you do, especially in entertainment. If you're just mailing it in the audience can always tell and they won't respond," says Grateful Greg, a.k.a. vocalist Greg Reamsbottom.
"You have to sing every song like it's your favourite song. You've got to really love it and believe in it. We've been playing for so long (15 years) that we know a lot of songs and we can read an audience. We can tweak what we are doing on the fly. That flexibility helps."
Guitar Doug Craig says it's cool to live in a community where they are supported in doing what they love.
"We have an opportunity in Whistler to be creative and that's important to Greg and I, for our own personal growth. We get to live our dream," Craig says.
"We have a tough time saying no, we play over 300 gigs a year. It's great to be a musician and be in a community where there are other great artists."
Celtic rockers Ruckus Deluxe and acoustic songsters Neverland Nights round out the list.
Best Arts & Culture Event: WFF
The 14th Whistler Film Festival (WFF) wrapped up earlier this month and it stays in the news, winning the Best Arts & Culture Event for the second year. Attendance this year was higher than ever.
"It's so exciting. We campaigned hard, we want you to know! We're thrilled," laughed executive director Shauna Hardy Mishaw.
"It has been 14 years of building this film festival and organization. I really believe we're on the cusp of something really great. It was a monumental year in terms of who was in the room, who attended, the deals that were done, the feedback and the press... those are accolades we really need and they are a testament to where we have emerged."
Hardy Mishaw says the road ahead is very promising.
"We're very grateful for all the support that Whistler offers. The reality is that we would not be able to achieve what we have without our partners, from the accommodations, to the restaurants, to the suppliers... it's that Whistler spirit that has built the festival," she says.
Also rating the highest votes this year where the 11-day fall food festival Cornucopia, followed by the yoga and good living summer festival Wanderlust.
Best Party/Festival: Crankworx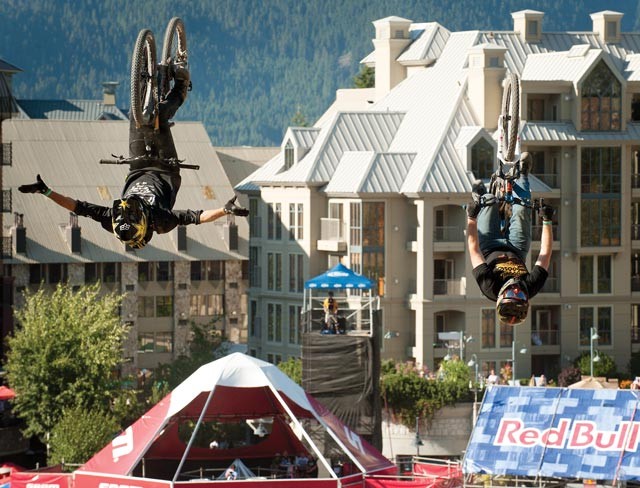 PHOTO BY DAVID BUZZARD / MEDIA-CENTRE.CA - Best Festival: Crankworx
Crankworx, Whistler's annual mountain bike festival, is the best party in a town full of parties.
Festival manager Darren Kinnaird is happy to follow up on their win of 2013.
"I think people love getting so close to the action. They can meet the stars — the whole industry is here and involved. There's something going on all the time and always something for people to get involved in," Kinnaird says.
The world-class nature of Crankworx draws the top athletes, he adds. The festival was also just nominated for Best Freeride Full-style event of the year for the Red Bull Joyride, with Pinkbike.
"It's another little reason why I am sure we are up there. The athletes consider us the Super Bowl of their sport," he says.
He says that in 2015 they will be concentrating on the launch of the Crankworx World Tour with a third festival announced for New Zealand. The other tour is in France.
"It gives us a chance to offer a series, creating a Crankworx Triple Crown of slopestyle, our own little downhill series, and steep style and one track series as well," Kinnaird says.
The ever popular World Ski and Snowboard Festival came second in this category, while newbie Pemberton Music Festival came third.
Best Place To See A Live Act: GLC
The Garibaldi Lift Company (GLC) takes the prize for best live gigging venue, followed by Dusty's, The Dubh Linn Gate and the Crystal Lounge.
Mike Wilson, the GLC's general manager, is "stoked that Whistler is supporting what we do" because in the past it looked less likely that people were still into live music.
"Our secret is what we offer. There aren't a ton of places offering live bands and I think finding what works is part of that," Wilson says.
"I think there is a good balance between the live music and the DJ culture, we've sold out both things this year, which has been exciting for us."
Wilson wanted to thank locals and visitors for their support.
"People are spending their hard-earned money, especially this season when there hasn't been a ton of snow and people are still working. They still shell out to see a band."
Best Celebrity Sighting In Whistler: Leonardo Dicaprio
It was hard to say if romance or bromance was on the minds of Whistler peeps with the news that Leonardo DiCaprio had honoured us with a visit on Nov. 6.
Leo, resplendent with a man bun, was in Squamish for a week filming the western The Revenant and spent a few hours in the village, unsettling everyone around him.
Tara O'Doherty of Mountain FM saw him at Roots buying onesies.
"He was with these four bodyguards and they called him 'L.' Please note that onesies did sell out in Roots that week," O'Doherty says.
"He was incognito, definitely. The man bun was under a hat. There was a beard and sunglasses and a toothpick. But when he spoke he gave it away. I was like, 'What's eating you, Gilbert Grape?'"
Singer, producer and music mogul Usher was also in town in 2014. He knows the resort, having performed in Whistler during the 2010 Winter Olympics.
British Columbian Pamela Anderson rounds out the numbers.
Favourite Piece Of Public Art: Inukshuks
Inukshuks are important symbols from the high arctic, something very Canadian that have been sent around the world. There are now Inukshuks in India, Mexico and Australia — placed there with the involvement of Inuit artists.
We have two here. The Inukshuks of Whistler have a name "Ilanaaq" or friend.
The first, at village level, greets visitors as they enter Whistler Village. The second, at the Roundhouse on Whistler Mountain, greets skiers and sliders, at the threshold to the best ski runs in the world.
Whistler's most recent piece of public art Village Ascent by Vancouver sculptor Oliver Harwood, located on Valley Trail, tied with Mike Tyler's sculpture at Millennium Place of a mother bear and her cub called Bear Affection for second.
Best Writer (Reporter/Blogger/Author): G.D. Maxwell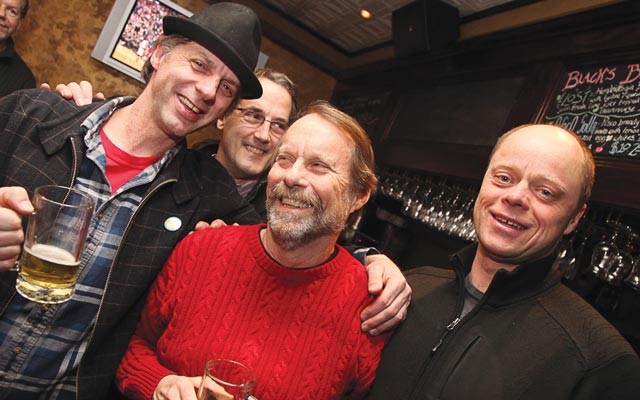 PHOTO BY COASTPHOTO.COM / BRAD KASSELMAN - Best Writer: G.D. Maxwell
Winner and still champion is Pique's "Maxed Out" columnist G.D. Maxwell.
Pique film columnist Feet Banks came second. Banks remembers the distant past — 2006 — when he managed to steal away the Best Writer first from Max. It only happened once, mind you.
"It was a thing because the previous two years I had won best waiter. That year I changed the 'A' to an 'R' and completed the trifecta. So quit being a waiter and I haven't won since that," Banks recalls wistfully.
OK. Let's trash-talk this great rivalry.
"Max has more column space than anyone else. Bigger is better. More to play with," Banks says, but then he zeroes in on Max's true gift.
"He's more polarizing than anyone else. The people who love him really love him... but it just goes to show that there is huge value in pissing people off. And he also happens to be talented. You can count on Max's work... it's almost never shitty. Sometimes a dog writes it and sometimes a magical part of his personality writes it, too. I prefer the dog over J.J. the Detective, I'll tell you that."
Max, himself, is given right of reply: "Writers are writers, you know. We write because something happened, we were dropped on our heads as children. Something twisted the wrong way in our DNA, or something like that. Most of the writers I know are mostly self-conscious or embarrassed by recognition."
Aaron Peart of Mountain Life Magazine joins the shy guys in the podium. Congrats!
Best Photographer: Blake Jorgenson
Blake Jorgenson is Whistler's most popular photographer this year, as he has been in recent years.
Known for gigantic landscapes and snow sports scenes, he says that it is important to home to keep his work fresh. Part of that is a new website and his work on display at the Adele Campbell Gallery.
"I'm always look for a new bag of tricks," he says. "I'm just getting fired up on winter. It hasn't been too bad (despite a lack of snow). I'd say it is better than last winter.
"The change and variables in the weather is what makes it an unknown road every year. I think that if it were the same every year it would become boring. It's the change and 'the you never know what you'll get' feeling that most inspires to create new images."
Two other talented and popular local snappers, Joern Rohde and David McColm, came second and third respectively.