Best Bar Or Club: Moe Joe's
Moe Joe's takes the prize for best bar or club for the second year in a row.
Owner Greg Britnell said he is really stoked that Whistlerites have conferred this honour on them.
"As a venue that takes as much pride as we do in being a true locals' bar, while simultaneously doing our very best to exceed the expectations of people who choose Whistler as their vacation destination; we could not be any more appreciative of the support that the community has shown," Britnell said in an email.
"Since receiving this honour 12 months ago, in an attempt to maintain our reputation as Whistler's #1 party spot, Moe Joe's has striven to continue offering premium service, a vibrant atmosphere, and the best entertainment in the valley."
To that end, he says their "infamous" Sunday Glow Party is a longstanding locals' night and they have recently added their Live in the House nights on Wednesdays to stay on top.
"We could not be happier with the path down which we are travelling," Britnell said.
"While a ton of credit for this achievement is owed to our amazing staff, the lion's share lands directly in the lap of our loyal local party people. Without them none of this would be possible. Thanks again Whistler, you rock!"
Three other locals stood out this year for nighttime hot spots: Brandy's, Maxx Fish and Tommy Africa's.
Best Bartender: Jason Redman, Araxi
Jason Redman at Araxi is Whistler's best bartender.
He called it "really exciting," and says he has been at the bartending job since high school.
"It got me through university and travelling, and it has gotten me through my life so far in Whistler," said Redman, who grew up in Ottawa. He moved to Whistler in 2001, and has lived here on and off.
As a barman, he tries to put in a lot of energy and a positive attitude.
"You want to create the best dining experience so that people talk about it when they go back home and say they've just had a great time at this establishment and the whole resort," Redman said.
"I'm very privileged to be able to live, work and play in the mountains here, so I bring that to work. It's my inspiration, there is no need to go to work and have a bad day," he said.Redman has been at Araxi for almost two years. He said they are "full on" every night, which they all love.
Asked how many drinks they serve per night, he said they'd lose track if he started counting.
"When we are doing 300 guests for dinner, plus the bar, plus the après ski we have with the oysters and the fondu, and when we do something later in the bar program going forward, I'd be making 1,000 cocktails in a night, easily," he said."We do a lot of volume but we also keep the quality really high, which is a great combo."
The second and third favourite bartenders are GeorgE Skoupas at the Beacon and AleX Pitt at Araxi, respectively.
Best Martini/Cocktail: Araxi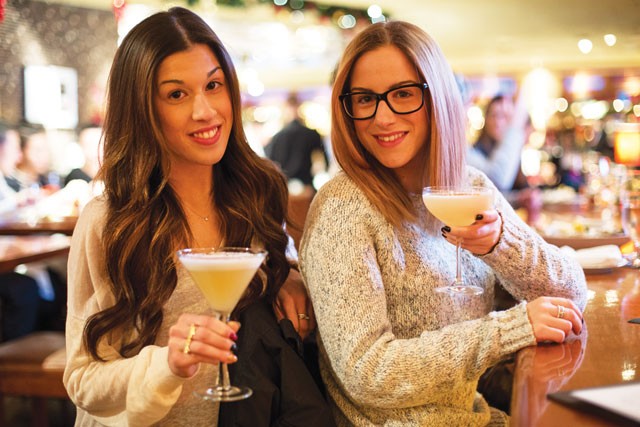 PHOTO BY COASTPHOTO.COM / BRAD KASSELMAN - Best Martini: Araxi
Araxi also takes the best cocktail this year, the wonderfully named "Truth and Lies."
"It's a twist on 'The Greyhound.' We like to base everything on a classic, as far as inventing new cocktails. A lot of it has been done and there is not a ton of new product coming out annually," said bartender Jason Redman, Whistler's best bartender this year.
He said that the move in cocktails in recent years is away from trendy and trending specialties back to classics.
"Style is coming back and it's nice. We are moving away from what we used to call martinis, with sugar and something in a martini glass, a carryover from the 90s," Redman added.
He said the key ingredients in Truth and Lies is grapefruit juice, lime juice, or lavender syrup — all made in house — vodka and Cointreau.
He adds: "The lavender gives it a bit of warmth and a touch of sweetness, the grapefruit juice is acidity, the Cointreau rounds it out. Then we do an interesting thing — we've got a house carbonating system and we will put the ingredients into a shaker with a little nozzle on it and put some compressed air in there. We get bubbles to the drink without watering it down. If you add soda you water down the mixture. Instead we add the CO2 to the glass and it goes down really smooth."
The (literally) seasoned favourite, the Caesar, proved extremely popular overall — it doesn't matter who does it. Everyone seems to want to render unto Caesar.
And the second and third favourite places to imbibe in your cocktail addiction are the Fairmont Chateau Whistler and the Bearfoot Bistro.
Best Beer Selection: Dubh Linn Gate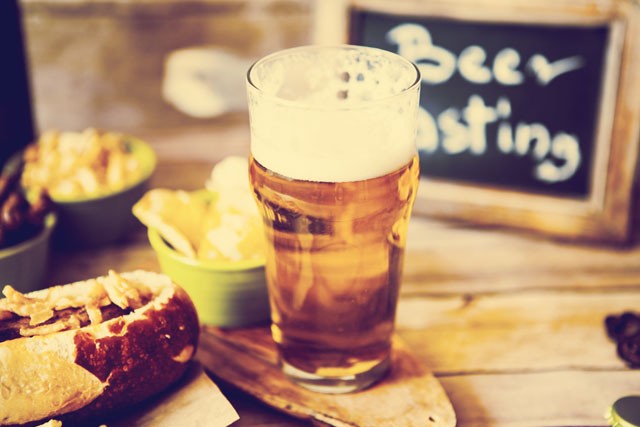 PHOTO BY SHUTTERSTOCK.COM - Best Beer Selection: Dubh Linn Gate
Dubh Linn Gate Irish Pub is the place where most people want to taste their hops juice, taking the prize for the second year.
The first sip of a pint is so crucial, so important, that nothing is left to chance, said Gordon Auld, the pub's assistant manager. At the Dubh Linn Gate, beer is considered a project, one started by previous generations of managers.
"It's amazing. I'm very, very proud, it's great!" he said of winning.
"There has been a lot of thought about which beers are best for the customers, that's the long and short of it. What we try to consider is that there has been a craft beer explosion in the Pacific Northwest, we are quite touristy as well.
"We're not Vancouver. We try to get good craft beers that are local and from the States, but we also want to have a range that anyone can drink. It's important for our servers to believe in a been before they can sell it."
Auld said the aim is to make sure every taste is catered for.
"Fortunately, we've got Guinness, Smithwicks and Kilkenny and these are all imports. They give us a good base and they are great beers that people come here to drink," Auld said.
He said they sit down as staff to taste their offerings and talk about what is important about them.
"We have to taste them, obviously. It is very much a group effort," he said. "If the staff's not happy, the customers won't be happy."
Auld added they like to keep their favourites and experiment seasonally with craft beers.
The only thing left to say is the Irish version of cheers... Sláinte!
Second and third places respectively are Brickworks and the BrewHouse.
Best Local Dj: Jayse Aspey
Jayse Aspey gets the nod this year as Whistler's best DJ, after four years in the resort.
Asked what he thinks it is that gets people going enough to vote for him this year, he said he's not sure.
"It's a big surprise to me. I'm just glad that people enjoy my music," he said.
"I definitely wouldn't call myself the best DJ in town, I just want people to have a good night."
He's currently holding the stage at Tommy Africa's on Friday and Saturday nights. The rest of the time, he travels into the B.C. interior to places like Revelstoke and Kamloops to play shows.
He works at it full time in a resort that is filled with turntable talent.
"I play a lot of house music mixed with funk," he said.
Originally from Brisbane, Australia, Aspey got his start DJing there and continued when he moved to Whistler.
"I wasn't DJing in my first year here, but the opportunity came up and I took it," he said.
"I'm very busy, all the time. I only do the two nights a week here right now, but I am travelling and also creating music."
He said he has a few musical projects on the go, including one with local DJ Kori.K."We have a new track on it's way, it's so fresh it doesn't have a name yet," Aspey said.
Second and third as voted in by you are Ace Mackay-Smith and Mat the Alien.
Favourite Local's Hangout: Tapley's and Brandy's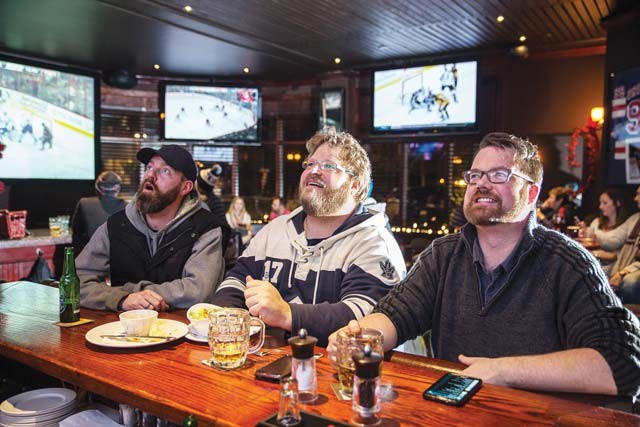 PHOTO BY COASTPHOTO.COM / BRAD KASSELMAN - Favourite Local's Hangout: Brandy's (tie)
Oh my, we do love our watering holes. So much so, Whistler voters got five of them into a three-place category for best local's hangout
Tapley's and Brandy's (in The Keg) tied for first... and in that spirit, we want to give them equal time here.
Brandy's manager Aaron Hopps said no venue would survive without the support of locals.
"We try to run the best bar that we can. Plus, we all enjoy working here and that's a big part of it. We're a tight-knight team and we love to come to work," Hopps said.I think people see that. Because it's a local's hangout they see that and they feel comfortable. There will be somebody at the bar they can talk with."
There are also bands and DJs bringing in music, but Hopps said keeping high standards is at least as important.
They updated the location recently and said that people are coming in because it's like their home was redecorated.
"We put a lot of effort into the work with that in mind," he says.
Tapley's local fans have literally built the bar, which is one of the favourite things about the place for new assistant manager Pete Lawren.
With a name grounded in the early years of Whistler, people can watch the games at this sports bar or hear a band on the weekend. There are no cover charges.
"Tapley's has a small-town feel in what is a big touristy town. There's thousands of people shipping themselves in and out each weekend, but I get to build on relationships and friendships each time. There are familiar faces all the time, which is heartwarming for me," Lawren said.
He said this means they get to dig a little deeper into the relationships with patrons.
"We also get to know guests on another level. We like to all ourselves 'the Local's Livingroom.' And we meet people from all over the world."
The others in the top three are Garibaldi Lift Company (GLC) and the Crystal Lounge, tied for second. Roland's in Creekside came third.