Best Coffee: Mount Currie Coffee Co.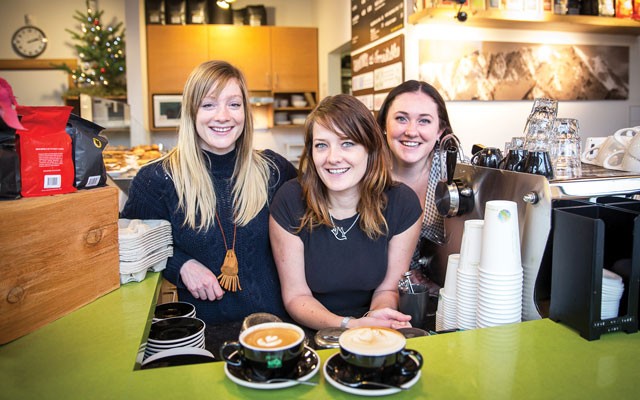 PHOTO BY COASTPHOTO.COM / BRAD KASSELMAN - Best Coffee: Mount Currie Coffee Co.
It was good news for the little guy in the second year of Pique's Best Coffee category, with Mount Currie Coffee Co. earning a bit of revenge by knocking off the inaugural winner, Starbucks, which didn't make the cut in 2014.
"We're pretty new in Whistler so this is very humbling," said owner Chris Alkeny. "There's more and more customers out there looking for quality over quantity and we're really trying to bring exceptional coffee to Whistler."
Alkeny and his team are always on the hunt for the world's best coffee beans, sourcing from Chicago-based Intelligentsia Coffee, as well as a rotating cast of B.C. roasters that have made Whistlerites realize what Pemberton locals have known for years: Mount Currie makes a damn good cup of joe.
Moguls Coffee House took home second place, while Blenz rounded out the list in third.
Best Hot Chocolate: Blenz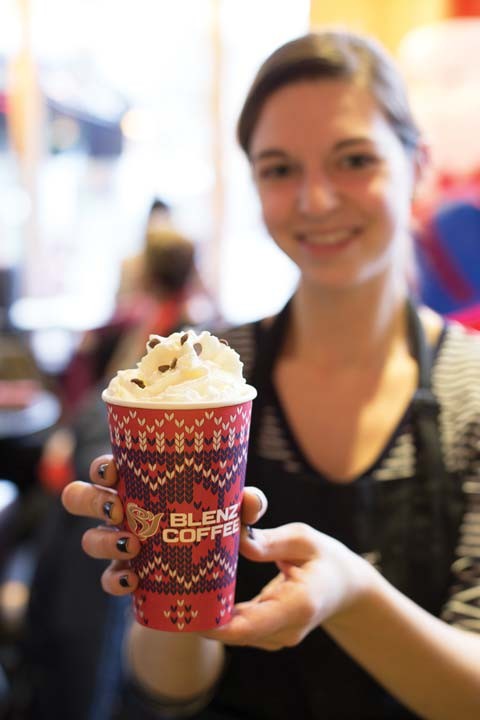 PHOTO BY COASTPHOTO.COM / BRAD KASSELMAN - Best hot chocolate: Blenz
Blenz remains the undisputed king of hot chocolate, winning the top spot for the third year running. This should come as no surprise to anyone who's huddled into the village café on a chilly day looking for a cup of piping hot, chocolaty goodness.
"I'd say what makes our hot chocolate different are the real chocolate chunks," said barista Alana Banks. "We use real Belgian chocolate chunks, not the sauce, and we put in a lot."
Voters put Moguls in the second spot and Mount Currie Coffee Co. in third.
Best Breakfast: Wildwood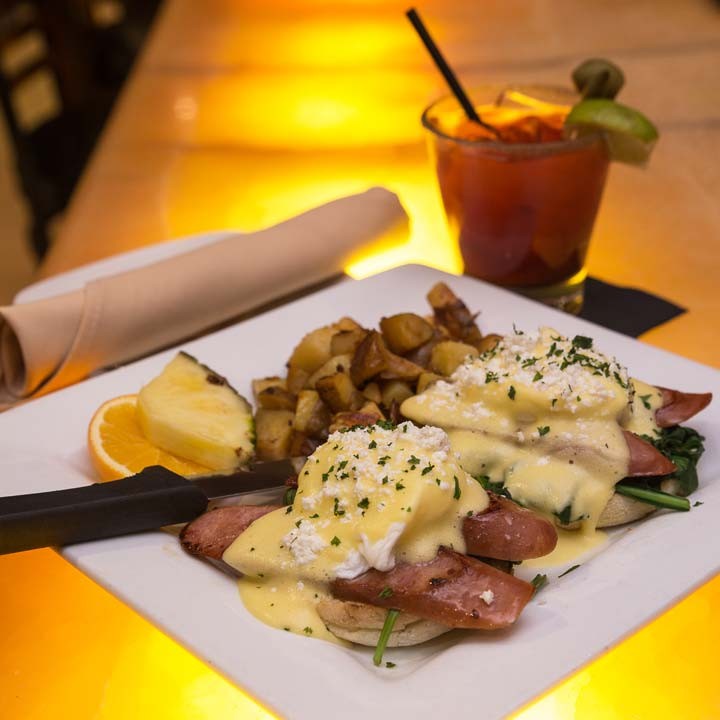 PHOTO BY COASTPHOTO.COM / BRAD KASSELMAN - Best Breakfast: Wildwood
It's clear Brian Dixon is doing something right, with both of the local's favourite hangouts he manages, Wildwood and Elements, earning No. 1 and 2 in Whistler's breakfast battle.
The vote wasn't as tight as last year when Wildwood and Elements tied for top spot in this category, but the results were proof positive that morning diners are appreciating what Dixon and his team is doing.
"We take a lot of time to make sure we're providing good value and quality food for a fair price, and that sells itself," he said.
While Wildwood's Function Junction haunt is something of a hidden gem, the second location just moved from its spot at the Whistler Tennis Club to a prime village location in the basement of the Crystal Lodge.
Creekside favourite Southside Diner took home third place.
Best Quick Lunch: Ingrid's Village Café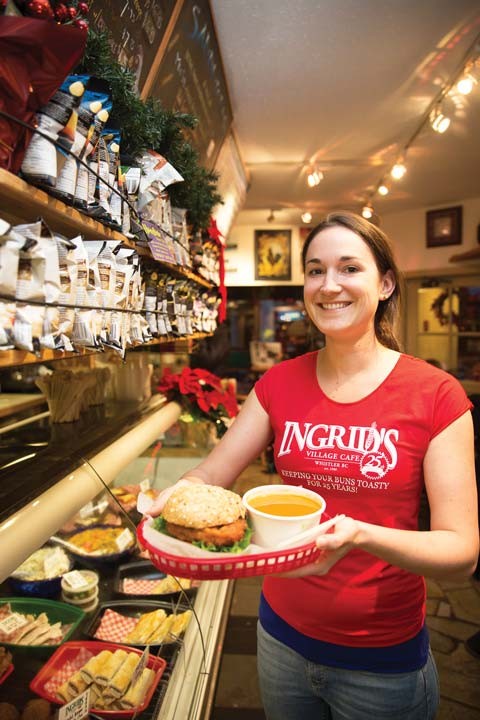 PHOTO BY COASTPHOTO.COM / BRAD KASSELMAN - Best Quick Lunch: Ingrid's Village Café
When asked what the secret to Ingrid's winning Best Quick Lunch for three years in a row, co-owner Nancy MacConnachie had a pretty obvious answer.
"The quickness," she laughed.
But while there are a handful of fast-food joints around the resort, MacConnachie doesn't like to lump the long-time village eatery into that category.
"We're speedy food but definitely not fast food. We have lots of fresh veggies on our sandwiches, sauces, variety and customization for the customer."
Ingrid's also offers a daily menu of freshly made soups, salads and baked goods, as well as a healthy heaping of vegetarian fare.
Gone Village Eatery came in at second, while newcomer La Cantina earned third.
Best Appetizers/Tapas: Elements
If appies are on the agenda for the evening, inevitably Elements Urban Tapas Parlour comes up in conversation.
The tapas-only dinner menu is back on top for the second year in a row, after a rare runner-up showing in 2012. Manager Brian Dixon said sharing plates is all the rage these days, and it's one of the reasons Elements is continually recognized by the community.
"We offer a completely different dining experience than just sitting down with a full menu," he said. "People are sharing dishes and talking about them."
21 Steps came in a close second once again this year, while Earl's placed third.
Best Wine List: Araxi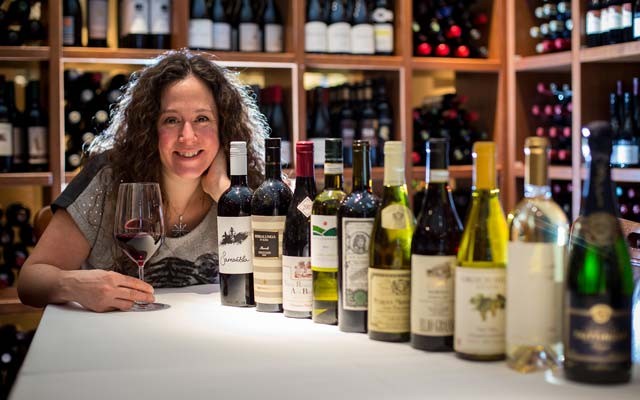 PHOTO BY COASTPHOTO.COM / BRAD KASSELMAN - Best Wine List: Araxi
For the third year in a row, Araxi's extensive selection of B.C. and international wines is being hailed as the resort's best.
When asked if the nod had more to do with the thousand-plus wines on offer or beloved wine director Samantha Rahn's glittering personality, B.C.'s 2013 Sommelier of the Year gave a very diplomatic answer: "It's a combination of all of the above and so much more," she laughed.
It's been a remarkable year for Rahn, who saw her name grace a bottle of her own wine for the very first time as part of last year's provincial award. Working with Okanagan Crush Pad, Rahn played a hand in every aspect of the process — from grape selection to fermentation to bottle design and marketing. With 150 cases of Samantha Syrah nearly sold out in just six weeks, she's already looking at future projects with the Okanagan winery.
Add that into her recent work with Whistler Blackcomb to launch a reserve wine program at on-mountain restaurants Steeps and Christine's, and it's been a jam-packed schedule for Rahn and her team.
"Like I need more work, but I'm excited to do it and it's all about building our wine community in Whistler and making life awesome for all of us," she said. "That's how we roll."
With more than 10,000 bottles in its cellar, Bearfoot Bistro came second once again this year, while the RimRock was voted third.
Best Burger: Splitz Grill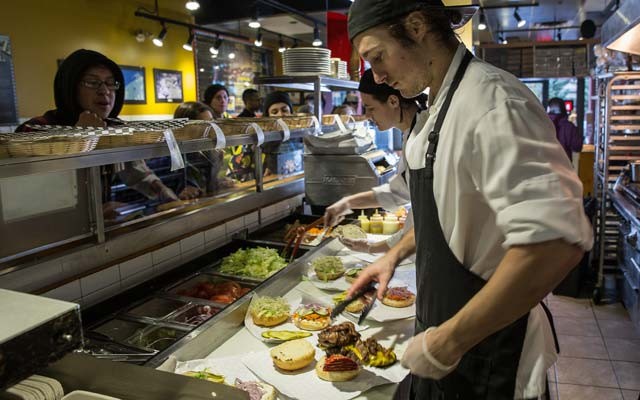 PHOTO BY COASTPHOTO.COM / BRAD KASSELMAN - Best Burger: Splitz Grill
Splitz Grill co-owner Cathy McGeough can't help but look over her shoulder every year when the Best of Whistler results pour in. But if the votes are any indication, there's very little chance Splitz will relinquish its throne as the resort's King of Burgers anytime soon.
"We're always kind of worried every time this comes around that somebody's going to creep up on us and pass us," she said. "But it's pretty nice that we won by such a nice margin."
Garbo's Grill took second, and Dusty's third.
It's good to be king, apparently.
Best Pizza: Creekbread
PHOTO BY COASTPHOTO.COM / BRAD KASSELMAN - Best Pizza: Creekbread
The good folks at Creekbread know that a successful pizzeria is about more than just serving up a delicious slice of 'za.
"The more friendships and great relationships we have, the more people will keep coming back, and we like to reward those people by helping out our community and doing the best we can to support causes and benefits from left to right and top to bottom," explained kitchen manager Cameron Taylor, referring to the Creekside restaurant's weekly community fundraisers.
But it's not just Creekbread's charitable efforts that have earned it top plaudits for five years running — its organic pizza made from fresh, regional ingredients speaks for itself.
"We love our food, that's why," Taylor said. "Food is love and everything we do we try to do as organically as possible."
Fat Tony's plays second fiddle this year with Avalanche bringing up the rear in third.
Best Steak: Hy's Steakhouse
When you've been in the steak game as long as Hy's has, you get to learn a thing or two about how to satisfy the meat-loving masses.
"We've been doing this since 1955 across our chain and we carry that into what we do here in Whistler," said G.M. Michael Kyle. "It's our quality of beef, the quality of preparation, our attention to detail and it's also our recipe."
Hy's Whistler is undefeated in this juicy category, leading the charge for the last four years.
This should come as no surprise given its reputation and history, but Hy's takes steak very seriously, offering diners a variety of ways to satiate their carnivorous urges, whether it's a buttery-smooth filet mignon, a classic New York strip loin, or for the especially famished, the gargantuan 22-oz. rib steak or Porterhouse. Then take a nap.
The Keg moved up a spot this year, overtaking third-place finisher Sidecut, the Four Seasons' signature steak joint.
Best Sushi: Sushi Village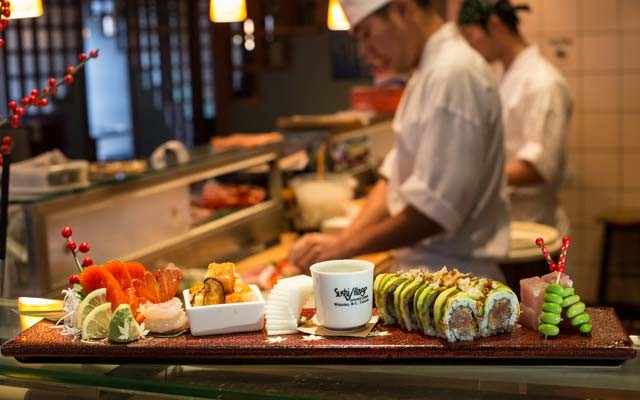 PHOTO BY COASTPHOTO.COM / BRAD KASSELMAN - BEst Sushi: Sushi Village
When it comes to sushi, Whistlerites have an embarrassment of riches at the tip of their chopsticks. But in 2014, it's an old resort standby that reclaimed top honours.
"Back on top, baby!" exclaimed Sushi Village manager Amy Huddle.
Launched in 1985 — only the sixth restaurant in Whistler to open its doors — Sushi Village was the vision of three restaurant workers from Vancouver who wanted to share their passion for Japanese cuisine long before the sushi craze hit North America. Many thought they were insane, but it effectively paved the way for the bounty of Japanese eateries the resort now enjoys.
"Listen, we're the oldest, we're the godfathers of sushi in town, and with that comes all the history and lore and shenanigans, and we just keep that going," Huddle said. "Every other (sushi) restaurant came out of us, and we're so proud of what they've done and so proud of the fact that there's such a great Japanese culture here."
It also doesn't hurt that the kitchen serves up truly authentic Japanese cuisine using fresh cuts of fish the head chef personally handpicks from Vancouver twice a week. Long live the godfathers!
Sachi Sushi fell to second place this year, while Nagomi Sushi once again took third spot.
Best Vegetarian Food: Green Moustache
PHOTO BY COASTPHOTO.COM / BRAD KASSELMAN - Best vegetarian: Green Moustache
Considering how popular the Green Moustache has become in the short year it's been around, it's a wonder there haven't been more local entrepreneurs catering to the vegetarian and vegan-friendly eaters of the community.
"There were so many people when we opened who told us they had thought about doing the same thing as us for years, but never did," revealed co-owner Nicolette Richer. "The best part was having people come in and give us huge thanks because we gave them an opportunity to eat out in Whistler."
A certified health counsellor and dietician, Richer wanted to give Whistler a nourishing, yet tasty, alternative to the typical fast food and pub fare that dots the resort's culinary landscape. That means giant salads packed with locally picked produce and nuts, hearty, homemade soups, creamy almond milk smoothies and cold-pressed juices loaded with anti-oxidants, as well as delectable raw vegan desserts that trick even the most savvy of sweet tooths.
The Marketplace eatery finished ahead of Ingrid's Village Café in second, and Mongolie Grill in third.
Best Takeout: Samurai Sushi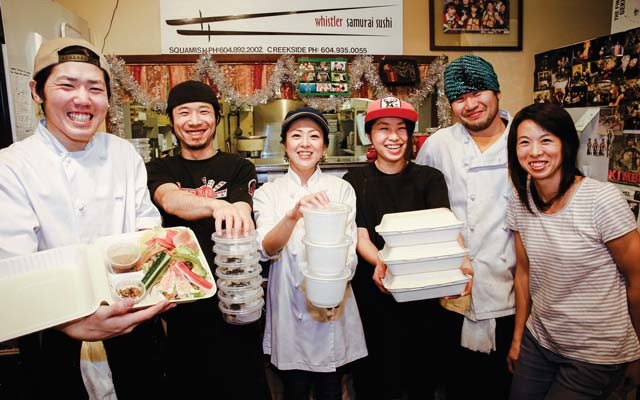 PHOTO BY COASTPHOTO.COM / BRAD KASSELMAN - Best Takeout: Samurai Sushi
In a sea of Japanese restaurants, Samurai Sushi has taken a different approach to stand out from the crowd by offering up tasty, quick-to-order dishes at prices so low you can forget you're still in Whistler.
Head on over to their Creekside or Nesters locations on a typical weekday and you'll get the best endorsement possible: a steady stream of locals popping in on their lunch break for their fill of sushi, donburi and steaming-hot udon soup.
You can also feel good about the fact Samurai is committed to reducing waste by using compostable packaging and encouraging customers to bring their own takeout bags.
Local favourite Pasta Lupino once again earned the No. 2 spot, with the Royal Taste of India, with their daily $7.99 lunch special, voted third.
Best Overall Experience: Araxi
Araxi restaurant director Neil Henderson admittedly expects a lot from his staff, but with a slew of industry accolades (including a smorgasbord of first-place honours in this year's Best of Whistler poll), it's obvious his high standards have paid off.
"We're much more than just a dinner," he said, "we are an experience."
This is the second year in a row the resort's first fine-dining establishment has earned this honour, and it's thanks in part to the crack team at Henderson's disposal.
"There's a lot of moving parts and they're all completely responsible for the successes we seem to be getting," he said.
RimRock, the winner of this category in 2012, missed out on the top spot by just two votes this year, while Sushi Village placed third.
Best Value: El Furniture Warehouse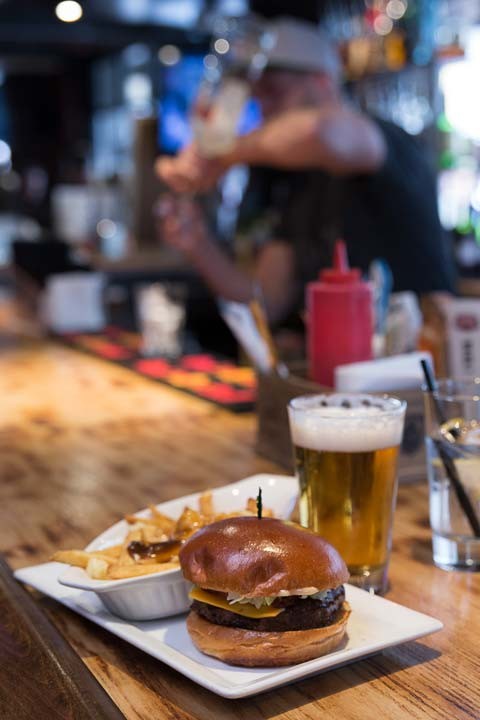 PHOTO BY COASTPHOTO.COM / BRAD KASSELMAN - Best Value: El Furniture Warehouse
You could make the argument that, with every dish on the menu coming in at under $5, El Furniture Warehouse would be hard to beat in this category. But the reality is Whistler knows good eats, and El Furni wouldn't have earned this spot if the food wasn't up to snuff.
It's a business model that has kept the village eatery packed virtually every night since opening two summers ago, and one that has netted its snowboarder owners some handsome profits; they've opened 11 restaurants in the chain across Canada so far.
It's about offering Whistlerites a cheaper alternative to the resort's pricy restaurant scene, explained manager Luke Evans.
"We want to make Whistler accessible to everyone, not just the wealthy and elite," he said. "It was something that was missing for a long time and we're really happy doing what we're doing."
Pasta Lupino was voted into second place and Samurai Sushi rounds out third.
Best Chef: James Walt, Araxi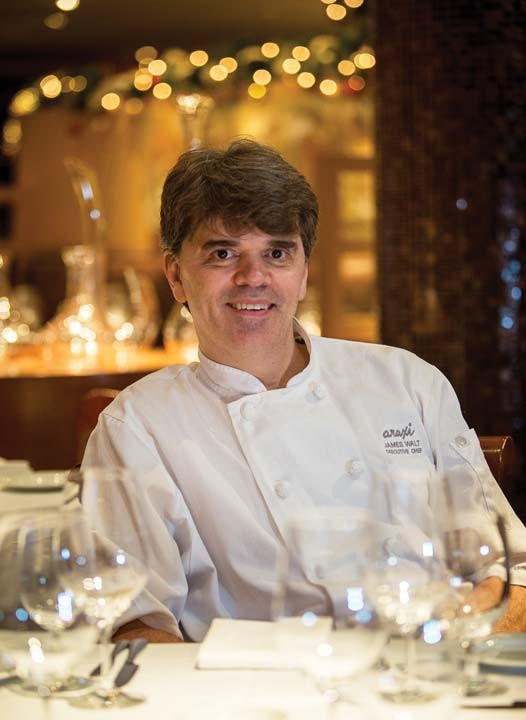 PHOTO BY COASTPHOTO.COM / BRAD KASSELMAN - Best Chef: James Walt, Araxi
It's safe to assume James Walt is probably running out of mantle space to display the many awards he's earned in his decades at the helm of some of Canada's top kitchens.
But if there's one honour that he truly relishes, it's being named Whistler's Best Chef, a distinction he's received on three occasions.
"It means the world to me," he said. "More than anything because it is the community that is recognizing you."
It's been another big year for Whistler's longest-running restaurant, with Vancouver Magazine naming the upscale eatery as the resort's best for the fifth time in a row, and an astonishing 14 times in all.
Looking ahead, Walt, a pioneer in farm-to-table cooking, said he's hoping to expand the restaurant's in-house charcuterie offerings, and continue to serve up world-class cuisine as the cornerstone of Whistler's culinary scene.
RD Stewart of new Creekside restaurant Red Door Bistro took home second place, while another new face, Erin Stone at The Stonesedge, was third.
Best Server: Benjamin Parizet, Araxi
It was a clean sweep for Araxi in this category, with servers Benjamin Parizet, Adrienne Wheaton and Marie Eve Arsenault claiming the top spots — a remarkable feat in a town with as many servers as snowflakes.
For first-time winner Parizet, the nod was a total surprise.
"I didn't really expect that this year," he said. "I don't know what to say."
After a little prodding, Parizet opened up a bit on why he thinks so many diners singled him out.
"I really try hard to make every single guest feel at home," he said. "Since we live in a resort town, I want everyone to feel welcome."
Best Service: Araxi
With the Best Overall Experience and top three servers in Whistler, it would stand to reason that Araxi had this category in the bag.
Restaurant director Neil Henderson explained the service principles that have led to Araxi's continued success: "Hospitality, engagement, accommodation and professionalism are the four main cornerstones of what we're trying to achieve," he said. "Obviously we back that up with the servers' own knowledge — both wine knowledge and food knowledge."
RimRock just missed taking the category by seven votes. The Red Door Bistro came in third.
Best Patio: GLC
Location, location, location.
That's the key to the GLC's iconic ski-in patio, giving guests an up close and personal view of all the mountain action — no matter the season.
"We've got a big patio and when the sun's shining, and we have a whole bunch of people on it, it becomes front and centre for the big air and slopestyle events. And when there are concerts on during the festivals we're front and centre as well," said GLC manager Mike Wilson.
The patio was also expanded on the mountainside this year, confirming once and for all that you can never have too much of a good thing.
Across the plaza, the Longhorn's newly renovated patio picked up second while Dusty's was third.
Best Après: GLC
One of the most unique things about the GLC is how the staff has been able to achieve a delicate balance between catering to the out-of-town crowd, as well as the longtime locals.
It's a perfect harmony that a lot of businesses in Whistler have yet to find, and one that manager Mike Wilson said is essential to GLC's continued success as the go-to spot for all your après needs.
"The locals are just as important to our business as the tourists and we try to convey that message to them by our staff knowing who the regulars are," he said. "We really try to connect with our guests and make sure they want to come back, whether it's the events, the live music, the DJ, the food or the staff, but hopefully it's all of those things."
Over in Creekside, Dusty's après experience was runner up, with Merlin's filling out the top three.