Best Excuse For Being Late: Powder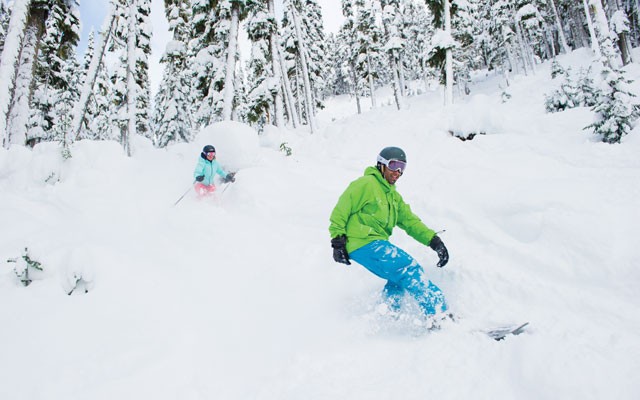 PHOTO BY MIKE CRANE / TOURISM WHISTLER - best excuse for being late: Powder
As if there was any doubt about this one.
For a lot of Whistlerites, a fresh pow dump is the only acceptable reason for being late. Having said that, Ullr hasn't been all that benevolent to us this winter, so kneel in prayer, sing his praises, offer a sacrifice — whatever you need to do to get Whistler back on that dude's good side.
Everyone's favourite fuzzy wuzzies were voted into second place, although it's safe to say Whistler's bears don't really care about being featured in your heavily filtered Instagram shot.
Transit problems came in a close third, which is probably the only legitimate excuse on this list.
Some other favourite submissions of ours: "I don't get paid enough to care," and "I had to put the shrimps on the barbie."
Best Neighbourhood: Alpine Meadows
Alpine Meadows is the place to be in 2014, with one of Whistler's original 'hoods once again taking the crown.
From its neighbourly vibe to its old-school architectural charms, Alpine is a perennial favourite in this category, even with droves of young families flocking to Whistler's newest neighbourhoods, Cheakamus and Rainbow.
But, it was the resort mainstays that rounded out the list, with the home of Whistler's original gondola, Creekside, being voted into second place and Whistler Cay and White Gold tying for third.
Best New Business: Green Moustache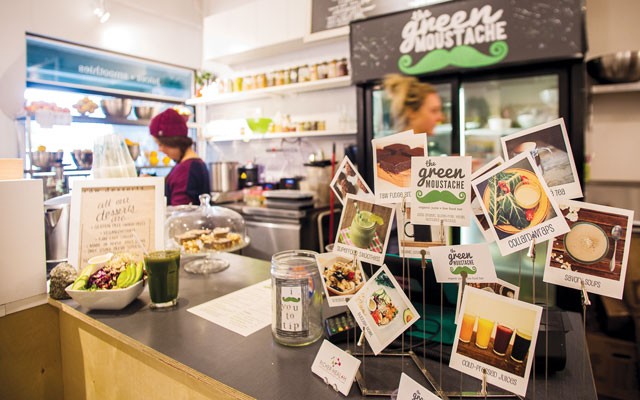 PHOTO BY COASTPHOTO.COM / BRAD KASSELMAN - Best new Business: Green Moustache
Even a decade ago, it would've been hard to imagine a place like The Green Moustache thriving in Whistler. But with more and more consumers caring about what they put into their body and where it comes from, business has been booming at the vegetarian café since the owners Nicolette Richer and her husband Pierre opened their doors a year ago.
"When you're in a community that doesn't offer a lot of healthy food options, something like this is a no brainer," said Richer. "Customers making good decisions for their own health has enabled us to be a successful business."
Customers have also clearly gravitated to Richer's sustainable business practices. The vegan-friendly eatery and juice bar refuses to compromise on quality and sources 100-per-cent organic ingredients from the region that are rarely pre-packaged and never canned, meaning the shop only makes a small bag of garbage every day.
"It's as close as possible to a farm-to-table strategy as we can make it," Richer said.
Chef RD Stewart's West Coast spin on French cuisine earned the Red Door Bistro a close second-place finish, losing out by only six votes, while Mexican Corner offshoot La Cantina came in third.
Best Place to Hang Out in a Blizzard: At home
Home is where the heart is. And also the couch, TV and all the fatty foods you can shake a drumstick at.
Home sweet home was named the best place to hide out in a blizzard once again this year, although the more adventurous among us put the mountain in second, making the rest of us lazybones feel real guilty. OK, not that guilty.
Après favourite the GLC was voted into third.
Best Rainy Day Activity for Families: Meadow Park Sports Centre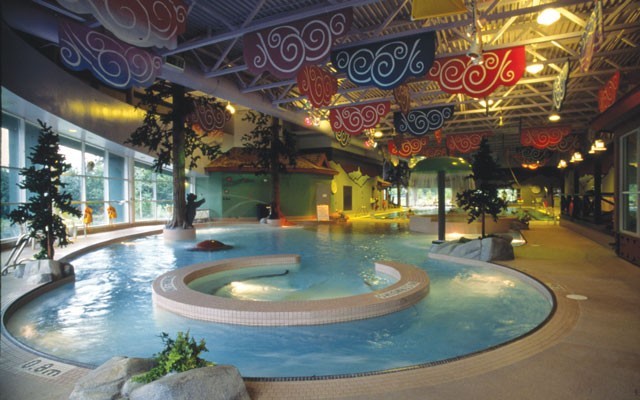 MEADOW PARK. PHOTO COURTESY OF RMOW - Best Rainy Day Activity for Families: Meadow Park Sports Centre
While a blizzard can turn many Whistlerites into a bunch of homebodies, the rainy days inspire families to get out for a swim or a skate at Meadow Park Sports Centre. Or if that's not your cup of tea, pick up a squash racquet, hit the treadmill and enjoy one of the resort's most cherished recreational assets — and that's saying something.
"You just have to go into the facility at any time and see, day or night, families there," said Mayor Nancy Wilhelm-Morden.
"Swimming lessons are incredibly popular and the skating and hockey programs for kids are extremely popular as well. We do our best to be accessible to all of the community members. (Programs) are more affordable at times, too, so they really do appeal to families," she said.
The Bounce Acrobatic Academy in Function Junction, home to 12 indoor trampolines, was runner-up while rock climbing at The Core nabbed the last spot.
Favourite Whistlerite: Mike Douglas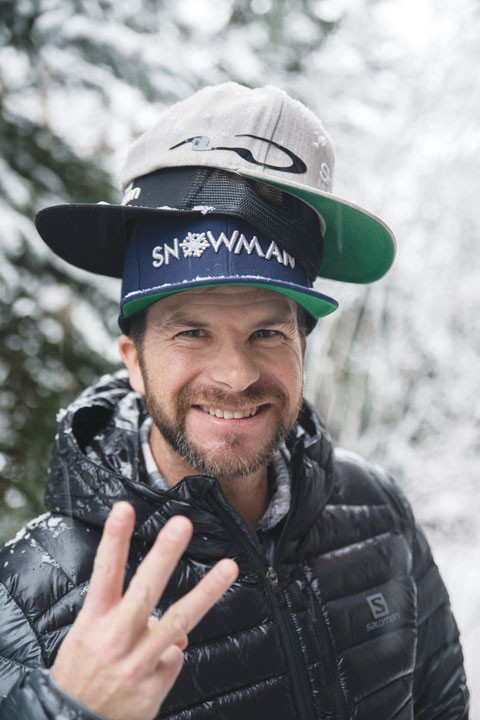 PHOTO BY COASTPHOTO.COM / BRAD KASSELMAN - favourite local: Mike Douglas
With Batman and bears earning a vote apiece, perennial favourite Whsitlerite Mike Douglas was in some esteemed company in 2014.
But the godfather of freeskiing wouldn't let his third title in three years go to his head, "aw shucksing" his way through our interview.
"I guess I haven't pissed anyone off in the last few years," he joked.
A resort resident for the past 26 years, Douglas embodies the Whistler spirit in a myriad of ways: He enjoyed a long career as an elite skier, helped create the modern twin-tip ski and regularly churns out eye-popping ski porn videos through the media company he founded, Switchback Entertainment.
But the project that consumed most of the year for Douglas — and one he calls the most challenging of his life — was the feature documentary he premiered last month to rave reviews at the Whistler Film Festival: Snowman, which tells an incredible story of survival and friendship with his childhood pal, avy bomber Kevin Fogolin, at the heart of the movie.
Filmmaker, writer, go-go dancer and all-around badass chick, Ace MacKay-Smith, who is better known in some circles as DJ Foxy Moron, eked out a close second-place finish over writer and Pique contributor Feet Banks, Whistler's enfant terrible who also runs The Heavy Hitting HorrorFest and occasionally enjoys ruffling a few feathers.
Favourite Volunteer: WAG Volunteers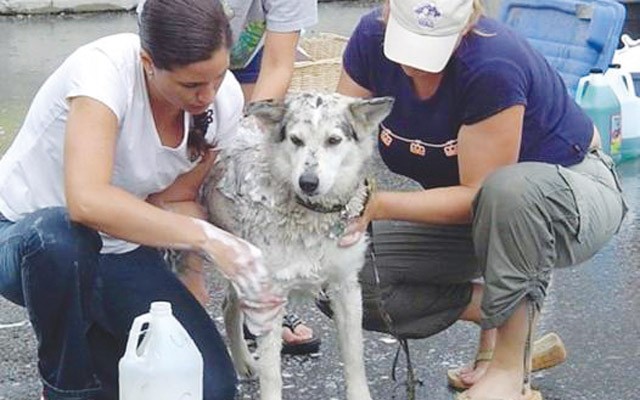 FILE PHOTO - Best volunteers: WAG Volunteers
When Whistler Animals Galore's Debbie Cox learned that her crack team had earned the title of Whistler's favourite volunteers, she was not even a little bit surprised.
"I wouldn't doubt that for a second," she quipped.
In a town that loves its dogs, it's no wonder that the folks responsible for feeding, grooming, walking and cuddling some of Whistler's most vulnerable four-legged citizens would get this nod for the second year in a row.
But for all their hard work, WAG's volunteer coordinator admits none of it would be possible without the continued support of the resort.
"The community is a dog-friendly community, and that definitely does help since everyone is aware of the shelter and it gets people thinking about going in to walk a dog at WAG," Cox said.
With a team of 25 volunteers, Cox said the animal sanctuary might be looking to expand that number in the New Year. Visit www.whistlerwag.com for more.
The volunteer team at Whistler's beloved mountain biking extravaganza, Crankworx, took home second, while Rosemary Cook was voted third.
Best Place to Take a Visitor: Peak 2 Peak Gondola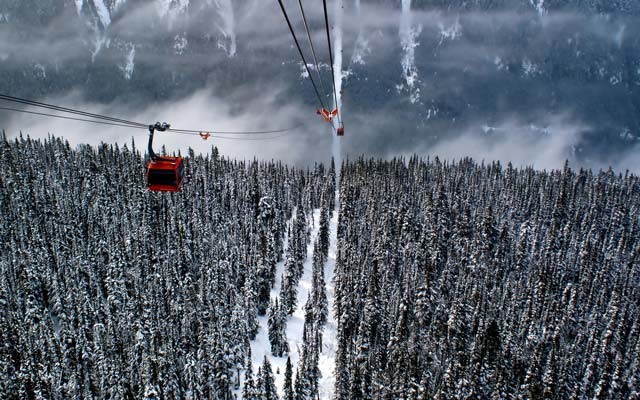 PHOTO BY MIKE CRANE / TOURISM WHISTLER - Best place to take a visitor: Peak 2 Peak Gondola
Some grizzled locals may scoff at this beloved tourist hotspot, but there's a reason the Peak 2 Peak is regularly put at the top of the list of must-see attractions in Whistler.
Opened in 2008, the world's longest and highest lift offers an unmatched bird's eye view of Whistler's breathtaking volcanic peaks and lush coastal rainforest. Hop off and you have a bevy of hiking trails, wildlife and mountaintop restaurants at your feet.
"The Peak 2 Peak gets no shortage of recognition as Trip Advisor's No. 1 landmark in Canada, but it is wonderful to see it also appreciated locally and shared with visitors to Whistler," said Whistler Blackcomb's mountain planning manager Arthur De Jong.
Unsurprisingly, the mountain was recognized as the second-best spot to take your friend from out-of-town, while Scandinave Spa offers a serene haven in third place.
Best Whistler Trend: Skiing & Snowboarding/Toques
Uhh, you guys, we're not sure skiing and snowboarding can really be called trends in a town that has made them its bread and butter going on half a century, but we get your point: riding is rad.
And, I suppose, if you're living the mountain lifestyle, you've got to look the part as well, putting in a tie for hottest trend. Not that you have to be on a pair of skis or a board to sport the look; Whistler is probably one of the only places on Earth where it's socially acceptable to rock a toque in the dead of summer.
Another quintessentially Canadian fashion trend — flannel — claimed second spot, proving that the '90s have never really left us. Healthy living fell to third.
Other trends Whistlerites loved in 2014: "Australians," "alcoholism," "nudity," "losing all your shit at the club," "Pogs," "lying about your past," "smug self-absorption," and naturally, "not caring about trends."
Best Free Thing to Do: Hike
Hey, Whistler: Go take a hike. Or, barring that, go jump in a lake.
Of course, we mean no offence; these are just the free activities locals recommend if you're looking to save a few bucks. With 40 kilometres of paved walkway on the Valley Trail, an endless supply of hikes around the valley that are a little more rugged, and some of the most scenic lakes you'll ever lay eyes on, taking advantage of Whistler's wilderness is a no brainer.
Biking was third.
Best Tip for Saving Money in Whistler: Don't drink
Whether you're a resort lifer or a weekend warrior, it's no grand revelation that Whistler is not kind to your bank account.
In a town full of temptations, the No. 1 answer on this list may be easier said than done for those who like to imbibe from time to time, but it is good advice for your wallet and your liver. Of course, you could just heed the wisdom of some of the voters who put "pre-drink at home" in fifth place.
Eating at home was another money-saving tip, while staying at home came in third.
Best Photo Op: Top of Whistler Peak
There's no shortage of amazing scenery to take your breath away in Whistler, but the best spot for a Kodak moment is the same place that is responsible for making our resort the mountain mecca it is today.
"We are so privileged to have this ultimate high elevation location to witness the surreal Coast Mountain Range right at our doorstep," said Whistler Blackcomb mountain planning manager Arthur De Jong. "It is truly a unique and iconic photo op in both the winter and the summer and has become recognizable to people all over the world."
Of course, no trip to the resort is complete without a shot in front of the iconic Olympic Rings, with the famous Inukshuk stone sculpture at Whistler's peak coming in third.
Best Decision by Whistler Council in 2014: Adding free parking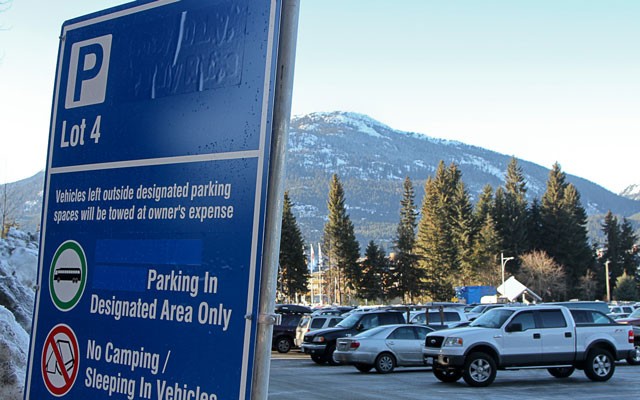 PHOTO BY COASTPHOTO.COM / BRAD KASSELMAN - Best Decision by Whistler Council in 2014: Adding free parking
The public loved Mayor Nancy Wilhelm-Morden's decision in 2011 to eliminate pay parking in Day Lots 4 and 5 so much that they voted for it three years after the fact.
Just to be clear: No additional free parking was instituted in 2014, although there were plenty of level-headed decisions by council to choose from, like the third year in a row of holding the line on property taxes, which came in second.
Another decision at muni hall that was so popular with residents they forgot it didn't actually happen this year was council's unanimous vote to turn down the Whistler International Campus, one of the largest development proposals in resort history. The vote took place in December 2013.
There were many other submissions to this category that showed Whistler maybe isn't the most engaged community in the world, including "I don't know," "I'm not political," and "hmm."
Most Dubious Decision by Whistler Council in 2014: Continuing paid parking
Boy, does Whistler hate paying for parking.
Despite not really being a hot topic in 2014, readers said continuing paid parking around the resort was our elected officials worst decision of the year, although the issue never came before the council table.
Council also paved the way for the resort's first Tim Horton's by rezoning a Creekside space to allow for a food and beverage retailer. Not everyone was happy to hear about the brown and red coming to Whistler, however, as it was voted the second most dubious decision by council.
Not approving a proposal for the resort's first university, the Whistler International Campus, drew enough votes for third.
One person polled perhaps had a poor understanding of federal law and basic spelling, proclaiming "the ban on doobies" as council's most dubious move.
Favourite Whistler Myth: Dual Mountain
In the early 90s it was possible to buy a pass to either Blackcomb or Whistler Mountains to ski — or both. This gave rise to the phrase "dual mountain" pass. Overhearing skiers talk about "Dual Mountain" visitors would, of course, ask where it was. You can imagine how many stories that led to. Turns out that myth is still Whistler's favourite to share and perpetuate with visitors.
Whistler having the best snow earned enough votes for second, while the resort's supposed affordability came in third.
This category inspired many, many interesting submissions. Here are just a few of our favourites (and one that hurt our feelings): "bears lay eggs," "there are dolphins in Lost Lake," "everyone does cocaine," "Bigfoot eats at Caramba," "Australians use more toilet paper, which is why toilets clog more here," and "Pique is a good newspaper."
One thing you would change about Whistler: More affordable housing
Affordable housing has been an issue that has plagued the powers that be here for a long time, but, with the resort's continued popularity with seasonal visitors and the proliferation of nightly rental sites like Airbnb, the housing crunch was at the forefront of many minds in 2014.
And if you needed further proof of just how much Whistlerites hate to part with their hard-earned dollars in one of the most expensive places in Canada, adding more free parking and lowering the cost of living rounded out the list as the top things people would like to change about our little resort town.
Biggest News Story of 2014: Illegal BASE jump from the Peak 2 Peak Gondola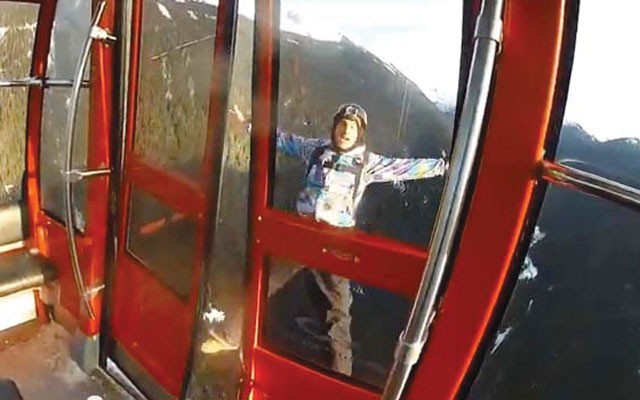 SCREEN GRAB FROM YOUTUBE.COM - Biggest news story: Illegal base-jump
It was like something out of a bad action movie: A brazen daredevil breaks open the doors of the world's highest gondola to freefall hundreds of meters for a chance at instant glory, making his getaway on a pair of skis while police were hot on his tracks in snowmobiles.
But it was a stunt that came with very real consequences; damage to the cabin was estimated at over $14,000 and an accomplice to the BASE jump, local Kathleen Adams, faced weeks of intense media scrutiny and was forced to pay back Whistler Blackcomb.
The incident divided public opinion in town, with some applauding alleged jumper Graham Dickinson (who was never caught) for his apparent tribute to late daredevil Shane McConkey, and some calling the stunt a selfish attempt at Internet fame that could have put others in danger.
If there's anything the majority can agree on, however, it's that it was Whistler's biggest news story of the year, and the vote wasn't even close.
A string of four bear deaths in the span of a week this August came in second, while the B.C. Supreme Court's decision to squash provincial approval of Whistler's Official Community Plan brought up the rear.