Best Ski Shop: Fanatyk Co.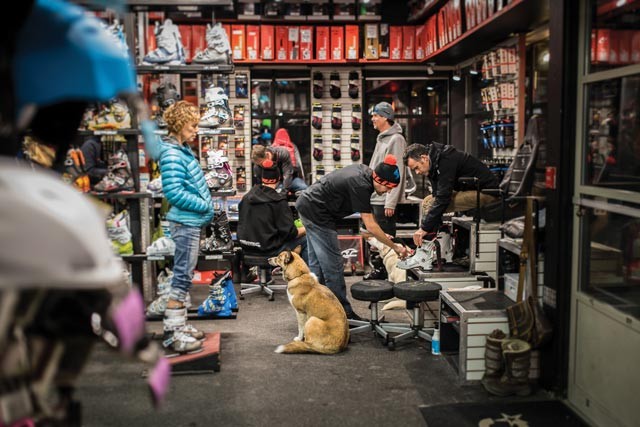 PHOTO BY COASTPHOTO.COM / LOGAN SWAYZE - Best Ski Shop: Fanatyk Co.
Being voted best ski shop in a town full of ski fanatics is nothing to sneeze at; getting the honour two years in a row is even better.
Fanatyk Co. Ski & Cycle — also voted Best Bike Shop by Pique readers —is Whistler's favourite ski shop for the second year in a row.
According to Kevan Kobayashi, co-owner of Fanatyk Co., it comes down to a love of the craft.
"All of us are pretty passionate about both biking and skiing, which I think really shows," Kobayashi said, adding that Fanatyk Co. has also been able to retain a lot of its staff over the years, with the average staff member being with the shop for over seven years.
"You can't help but gain a reputation of being ski and bike experts when you have staff that have been around that long and love what they do," Kobayashi said.
"Every staff member here is fantastic, and they get all the credit."
Summit Sport took second and Comor Sports came third in the Best Ski Shop category.
Summit also finished second in the Best Bike Shop category, while Evolution came third.
Best Bike Tech: Adrian McGee at Fanatyk Co.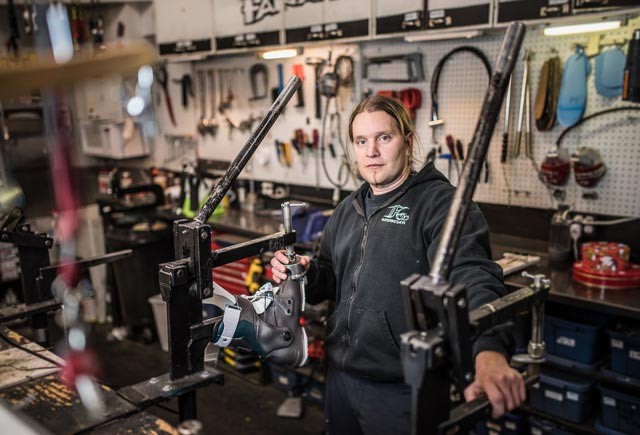 PHOTO BY COASTPHOTO.COM / LOGAN SWAYZE - Best Bike Tech: Adrian McGee, Fanatyk Co.
For the second year in a row, Adrian McGee of Fanatyk Co. has been voted Whistler's best boot fitter and bike tech.
So what's his secret?
"I'm awesome?" McGee asked with a laugh.
"I'm not sure. Years of training and experience, I guess."
McGee has no shortage of experience, having been with Fanatyk Co. since 2007.
"He's kept peoples' bikes running and saved peoples' vacations, and helped people through all kinds of ski boot issues," said Kevan Kobayashi, co-owner of Fanatyk Co.
"When you've been doing it for a long time and you're consistent like that, you end up having a lot of people who, I guess, know you by reputation and are quick to sing your praises."
Fanatyk Co. dominated the boot fitter category, with Kevin Ahearn and Kobayashi himself coming second and third, respectively.
James Barratt from The Fix came second in the Best Bike Tech category, while Kevin Ahearn came third.
Best Snowboard Shop: Showcase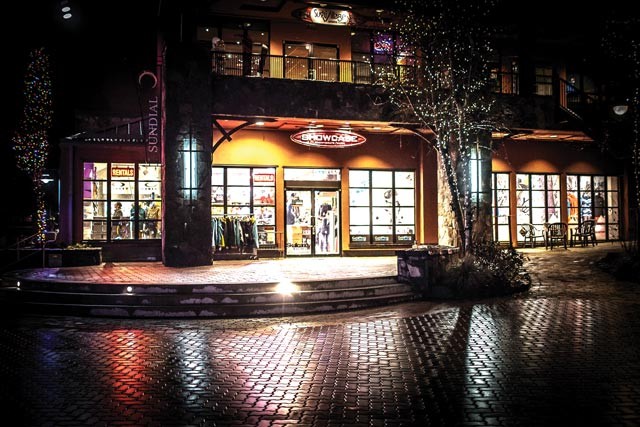 PHOTO BY COASTPHOTO.COM / LOGAN SWAYZE - Best Snowboard Shop: Showcase
After falling to second in last year's Best of Whistler, Showcase Snowboard Surf and Skate Shop returned to the top spot in 2014.
"I'm absolutely ecstatic," said Dee Gail, manager at Showcase.
"It feels amazing to be back on top after a year off, especially considering it's our 25th anniversary."
Showcase was also voted Best Snowboard Shop in 2011 and 2012.
Gail said there are a number of things that have helped Showcase pull in the votes of Pique readers.
"What puts Showcase on top is our dedicated team of snowboarders, our location is pretty amazing, and we're always evolving, you know?" she said.
"We're always updating the store, we're always trying to keep it interesting and fun, and we try new brands and just always try to have the best product for our customer and our guests."
Evolution Snowboards came second in the category, with Prior Snowboards taking third.
Best Shop For Clothing: The Beach
Even in the heart of a mountain resort village, people need their swimwear.
"People are really happy to have found that they can get a pretty good looking swimsuit up here in the middle of the mountains," said Beach owner Peter Elzinga.
For the second year in a row, The Beach has been voted Best Shop for Clothing by Pique readers.
But it's more than just convenient swimwear that has led to the success of The Beach.
"I think it's a number of things," Elzinga said.
"Our buyer Jamie really picks out some fabulous things to put in the store. Our staff is great, they're happy and they want to be here, so the atmosphere in the store is good."
Being recognized by Pique's readers is validating for Elzinga and his staff, he said.
"It's really nice to see," he said.
"It means that the effort that we put into it really is appreciated, and we appreciate the fact that people are noticing."
The Circle took second while Evolution came in third.
Best Place For Deals: Re-Use-It Centre
You never know what you might find when you walk through the doors of the Re-use-it Centre.
"We get stuff donated that's brand new," said manager Paul Rehel.
"We had a guy who came in and donated a kite surfing sail, but it had never been used. It still had the price tags on it... this was like $4,000 worth of stuff."
That sense of wonder is probably what makes the Re-use-it Centre a consistent winner of the Best Place for Deals award.
"We've got a lot of regular customers that we see every day, and then we've got all the new kids that come in every year, so it's great to see them," Rehel said.
"It's a nice fresh vibe that we get in this time of year, because they're all excited."
And with proceeds from the Centre going directly back to Whistler Community Services, you can feel good about the money you're dropping on that kite surfing sail.
The Whistler Clearance Centre took second place, while Summit Sports came third.
Best Adventure Tour: Ziptrek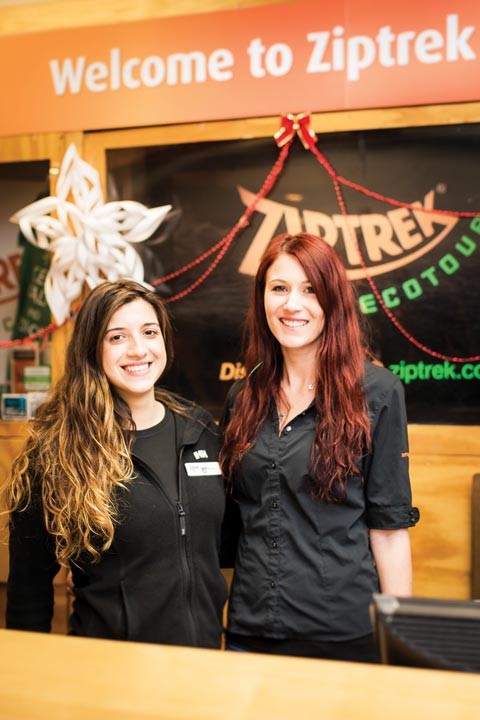 PHOTO BY COASTPHOTO.COM / LOGAN SWAYZE - Best Adventure Tour: Ziptrek
According to Ziptrek owner Charles Steele, it's a combination of history, innovation and location that makes Ziptrek the best adventure tour in town.
"We're the first zipline tour in North America," Steele said.
"We pioneered and patented all of the safety systems, and then we have the best location in the world, zipping between Whistler and Blackcomb."
Ziptrek was also voted Best Customer Service.
"We also won best customer service for a large business at the Chamber awards this year as well, so it's great to see some more recognition due to the hard work that I know all the frontline staff do on a daily basis," said Ziptrek operations manager Brent Macdonald.
Canadian Wilderness Adventures and Superfly Ziplines took second and third in the Best Adventure Tour category, respectively.
Fanatyk Co. came second for Best Customer Service, while Whistler Blackcomb came third.
Best Store For Browsing And Exploring: Rocks and Gems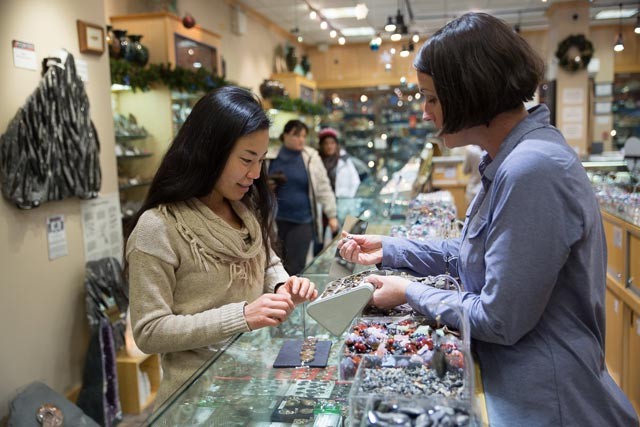 PHOTO BY COASTPHOTO.COM / BRAD KASSELMAN - Best Store for Browsing Rocks and Gems
A unique, vast selection of odds and ends from all over the world can be found at Rocks and Gems, making it ideal for shoppers just looking to browse.
"There's fossils, minerals, jewelry, statues, carvings..." said assistant manager Tina McColeman.
"We carry Canadian items as well as items from around the world."
That kind of international selection is great for tourists when they're able to find a piece of home.
"That creates a great experience for them, finding something from where they're from, all the way in Whistler."
The staff at Rocks and Gems is also happy to help clientele make the best of their stay.
"We usually know a bit about Whistler, how to help them shop elsewhere, restaurants to go to... just helping them with other ideas if it's a rainy day and they're not skiing," McColeman said.
The Re-use-it Centre came second in the category while Showcase finished third.
Best Auto Shop: Barney's Automotive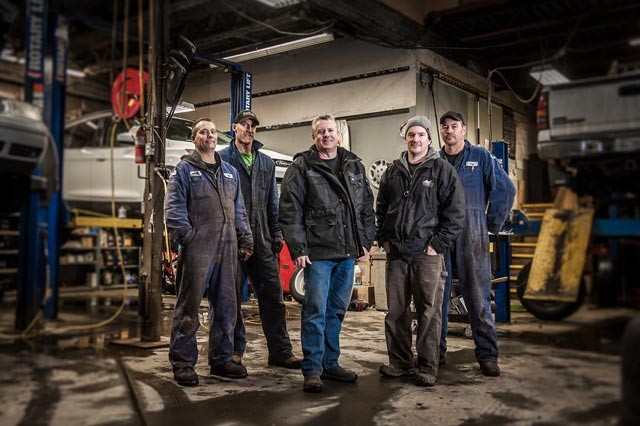 PHOTO BY COASTPHOTO.COM / LOGAN SWAYZE - Best Autoshop: Barney's
"Is this a crank call?" laughed Scott McKay, owner of Barney's Automotive, when told his shop had been voted best in Whistler.
No sir.
After more than three decades of operation, Barney's has taken the top spot in Pique's reader's poll.
McKay said it's a matter of fair, honest and fast service.
"I'd just like to thank everybody," McKay said.
"And I appreciate all the service over the years."
Last year's winner Local Automotive placed second this year, while Mike's Garage came third.
Best Realtor: Dana Friesen Smith, Re/Max Sea To Sky
After just two-and-a-half years in the Whistler real estate game, Dana Friesen Smith has taken the honours of Best Realtor in town.
"This is exactly what I was aiming for and what I've always wanted, but I didn't expect it to happen so quickly," Friesen Smith said.
"I think this is a good sign that people are pretty stoked with what I'm doing, and they're happy with the service that I'm giving."
But what does it take to stand out in such a crowded market?
"I think people are over the cheesy salesman, and what they want now is honesty and service and people to go the extra mile," Friesen Smith said.
"I think people just want to know that they can be taken care of and that they can trust you, that they're not just being sold something, but they're actually getting their best interest taken into consideration."
Amber A. Mann with Whistler Real Estate Co. came second, while Dave Brown came third.
Best Law Firm: Race and Co.
After taking home the inaugural award for Best Law Firm last year, Race and Company has once again been voted the best in Whistler in 2014.
"We're honoured to have won this award again," said lawyer Sholto Shaw, on behalf of the firm.
"Our team of 11 experienced lawyers strives to represent each of our clients with the highest level of skill and integrity."
Shaw was voted Best Lawyer for six years running before the category was changed to Best Law Firm last year.
Race and Company specializes in business, personal and family law, and is well regarded for work in injury claims of all kinds.
Mountain Law placed second while Double Diamond Law placed third.
Best Overnight Accommodation: Fairmont
In a town with more than a few accommodation options, the Fairmont Chateau Whistler reigns supreme in 2014.
With its ski-in/ski-out location at the base of Blackcomb Mountain and full resort amenities, the Fairmont is a favourite of families, wedding parties, meetings and conferences alike.
Last year's winner, the Four Seasons, came second this year, while The Westin finished third.
Best Jewelry Store: Ruby Tuesday
In the three years that Best Jewelry Store has been a category, Ruby Tuesday has won every year.
How does the store stay so consistent?
"I don't want to toot my own horn, but the jewelry selection is fantastic," laughed owner Adrienne Deeks.
In all seriousness, Deeks said it's hard for her to say what it is that makes Ruby Tuesday the best — it's a question better suited for the customers who vote for it.
"As somebody that just puts it together, you don't really know," Deeks said.
"I do know that my staff are fantastic and I get compliments on them all the time."
At its prime location in the heart of the village stroll, Ruby Tuesday offers designer earrings, necklaces, rings and accessories for any occasion. The store also sells a variety of stylish handbags, belts and hair accessories.
Keir Fine Jewelry, specializing in Canadian diamonds and unique ammonite fossil pieces, came second, while Rocks and Gems, specializing in products made of stone, such as crystals and mineral specimens, came third.
Best Mortgage Broker: Karen Garrett, Dominion Lending Centre Sea To Sky Mortgages
Karen Garrett at Sea to Sky Mortgages returns to the top spot in the Best Mortgage Broker category, after falling to second place in last year's reader's poll.
Chantel Jackson with CIBC came second while Jonathan Decaigny of RBC finished third.
Best Financial Institution: TD Bank
Whistler's TD Bank is once again on top of the financial heap, taking home honours for Best Financial Institution for the fourth year in a row.
TD's Marketplace location offers full-service banking, including loans, mortgages, credit lines and investment and saving products.
RBC Royal Bank came in second again this year, while Blueshore Financial took third.
[Page]