Favourite Summer Athlete: Brandon Semenuk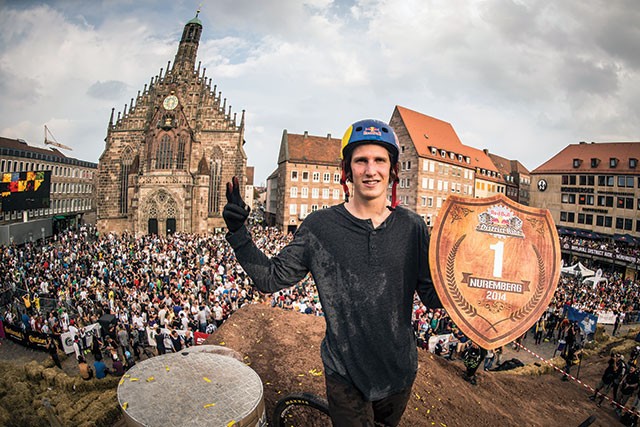 PHOTO BY CHRISTOPH LAUE COURTESY RED BULL CONTENT POOL - Favourite Summer Athlete: Brandon Semenuk
Brandon Semenuk was on top of the FMB Diamond Series standings when the 2014 season wrapped up.
That success led to more recognition for the 23-year-old, as he rose one spot to earn the title of Whistler's favourite summer athlete.
Semenuk finished on the podium in four of five FMB events this year, including taking the title at the Red Bull District Ride in Germany and at the Red Bull Joyride at Crankworx right here in Whistler. This year's victory on home turf was Semenuk's second in a row and third overall. This was also the third overall title for Semenuk in the circuit's five-year history.
Semenuk was the category's landslide winner, with fellow mountain bikers Claire Buchar and Finn Iles taking second and third, respectively.
In the Phat Wednesdays downhill series, Buchar dominated the female open division, winning all eight races she entered and winning the overall points title handily over runner-up Lula Darquier. Buchar, who started Kovarik Racing with husband Chris Kovarik of Australia, is an 11-time member of the Canadian national team. She was first in the Garbanzo DH and third at the Canadian Open DH at Crankworx.
Iles, meanwhile, had a very impressive 2014, but we'll get to that in just a moment.
Favourite Winter Athlete: Ashleigh McIvor-DeMerit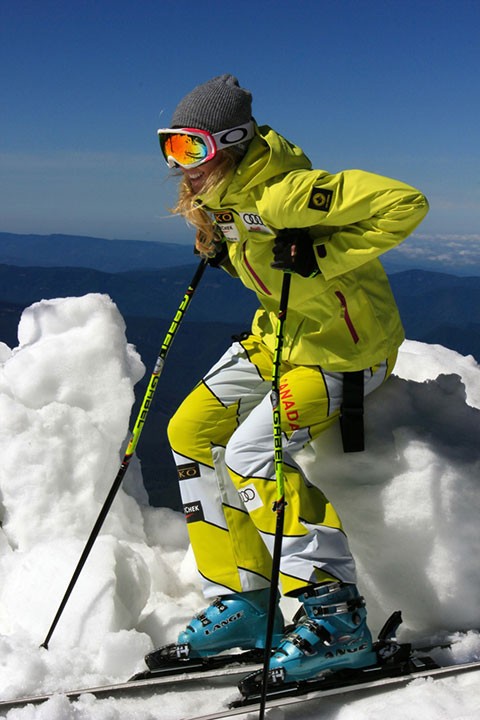 SUBMITTED BY ASHLAIGH MCIVOR - Favourite Winter Athlete: Ashleigh McIvor-DeMerit
Ashleigh McIvor-DeMerit's local legacy lives on.
The 2010 Winter Olympic Games ski-cross gold medallist, who retired in 2012 after an ACL injury, is beloved in her hometown.
The 2010 Games marked the first time Olympic medals were given out in ski-cross.
After a career that included 11 World Cup podium appearances, McIvor-DeMerit is now able to enjoy her free time with husband, former Vancouver Whitecaps captain Jay DeMerit.
"This is always my proudest accomplishment," McIvor wrote in an email. "No Olympic medal compares to the love and respect of your community, especially this wonderful community."
She helped pave the way for second-place finisher Marielle Thompson, who had an extremely impressive 2014 by winning gold at the 2014 Winter Olympic Games in Sochi before capturing her second Crystal Globe as FIS World Cup champion in three years.
Snowboarder Mercedes Nicoll, who finished 25th in the halfpipe at Sochi, was the third-place finisher.
Favourite Junior Athlete: Finn Iles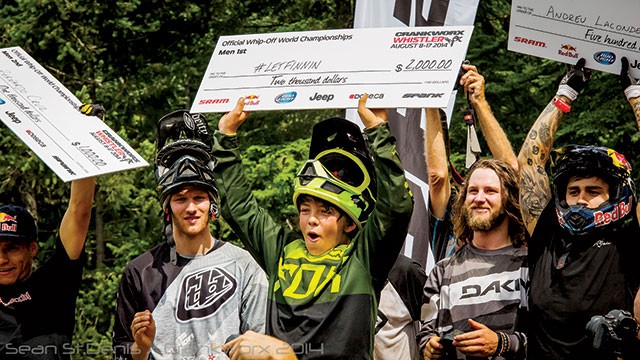 PHOTO BY SEAN ST. DENIS COURTESY CRANKWORX - Favourite Junior Athlete: Finn Iles
Local mountain biker Finn Iles was able to garner plenty of outside support when he was fighting just to get into the Whip-Off World Championships at Crankworx at the tender age of 14. He rewarded those who helped pressure organizers with the #LetFinnIn hashtag as he won the whole darn thing just to top it off.
Iles got plenty of support once again, to earn the title of favourite junior athlete.
"That's really cool, I'm really excited about that," he said. "I lived in Banff, Alta. for the first eight years of my life, and after that, it just seems like all my sports just took up.
"It was more of an atmosphere that everyone loved to bike, everyone loved to ski here. All my friends would go and I'd go with them."
This fall, Iles inked his first professional contract with Team Lapierre Gravity Republic after a solid year on the 2014 City Urban Downhill Tour. Locally, he competed in the Phat Wednesdays junior male division, winning seven of the eight races he entered, taking second in the remaining competition. Iles ended up with a major cushion over second-place finisher Brad Jansen.
Eleven-year-old downhill biker Finn Finestone and cyclist Mahon Lamont were second and third, respectively. Finestone was 13th in the Phat Wednesdays junior division standings. Lamont, meanwhile, placed 13th in the U19 men's division at the 2014 Canadian MTB XCO Championships near Barrie, Ont. this summer.
Best Run On Whistler Blackcomb: Peak to Creek
No one remembers who came second, and that's certainly the case in this category.
It's moot, though, as the Peak to Creek perpetually comes out on top as it did this year as the favourite.
The run, which opened in 2006 with 5,020 feet of continuous vertical, has quickly won the hearts of many skiers and snowboarders — even if the thigh-burner of a run forces athletes to take a breath on one of the benches along the line on the way down.
The 11-kilometre Whistler Mountain run, located on the west side, allows adventurers to traverse 400 acres of bowls and glades. And after the first kilometre and a half, users don't have to worry about intersecting runs or trails.
"Peak to Creek through Bagel Bowl then Love Canal provides you with every possible type of terrain. The raw beauty is matched by some of the deepest powder the mountain offers, while the cold beer at Dusty's gives you the opportunity to brag about your epic line through tall timbers!" wrote Patrick Smyth on the Pique's Facebook page.
Added Dawn MacLeod on the page: "You kind of wrap your way around and across the mountain for however long it takes you and then there's beer at the end of the rainbow. The Peak to Creek is like the Lord of The Rings trilogy on skis (or snowboard)."
Even early in the season, it seems like users are noticing improvements to two other runs, as Rock n' Roll and Ridgerunner finished second and third respectively. The runs, located on Blackcomb Mountain, were easier to access after the opening of the Crystal Ridge Express high-speed chair. Sections of the Crystal Glide trail that access the chair were widened this season, and other trail work was done on runs in the area, including Rock n' Roll and Ridgerunner. The Dave Murray Downhill also earned votes as an honourable mention.
Best Cross-Country Ski Trail: Lost Lake Park Trails
There's no question — the Lost Lake Park trails have been found by cross-country skiing lovers.
The park offers over 30 kilometres of trails over its 525 acres where skiers can enjoy glorious views of both Whistler and Blackcomb mountains.
The trails are groomed nightly, and are wonderful for both Nordic and skate skiing. There are three loops for beginner, intermediate and expert skiers.
The trails are easily accessible from Whistler Village, as a free shuttle is even offered from Lot 4.
And if cross country skiing isn't necessarily one's outdoor activity of choice, snowshoeing options are also available.
Whistler Olympic Park in Callaghan Valley was second. The Norwegian Woods trails were preferred by a handful of voters to finish third.
Best Bike Trail: A-Line
The A-Line has all the right curves in all the right places.
Or at least local riders say so, nominating the legendary Whistler Bike Park offering as the favourite in town.
With just the right blend of humps, bumps and jumps, the 2.6-kilometre A-Line earns an A-plus from thrill seekers. The trail features a 327-metre elevation drop, 39 jumps and 30 berms.
Renowned local rider Finn Iles said the A-Line ranks highly for him.
"It's definitely one of my favourite trails, for sure," he said. "(I like) how fast it is, you can carry your speed down, you don't really have to brake at all. The jumps are especially fun."
Added Kevin Heath on the Pique's Facebook: "A-line feels like a videogame with so many big jumps, not like anything I've ridden anywhere else."
There was a three-way tie for second with 32 votes, as local voters gave an equal amount of love to the classic River Runs Through It, the Iles-approved Dirt Merchant, and the traffic-heavy, popular Crank It Up.
Best Toonie Race Sponsor: Fanatyk Co./Southside Diner
Participants in local Toonie Races may not have been all that happy to see the season end, but after another year of unbelievable sponsorship from local businesses, the particular favourites all came toward the tail end of the season.
Riders receiving free snacks and swag once again heralded the Fanatyk Co./Southside Diner team-up after its Aug. 28 session as the top booster, repeating from 2013.
"It's just one of those things that has been a tradition for as long as I can remember, since even before we had this shop," Fanatyk Co. co-owner Kevan Kobayashi told Pique. "It's more about the social, as much as it is about the actual biking and the race itself. It really kind of is the one link that all bikers in this community kind of know about and can take part in, and you know, there's no loyalty to one shop or anything like that, it's really just anyone who loves biking loves those events, loves hanging out with their fellow bikers, and just making a fun night of it every Thursday night."
Second place went to the ride two weeks afterward, which had a plethora of sponsors. Slopeside Supply, Mount Currie Coffee, Scandinave Spa, Lucia Gelato and Peaked Pies all pitched in to make the Sept. 11 ride a smashing success with a smorgasbord of snacks and a spa session to boot.
The night of the ninth annual show and shine was also beloved by riders, who voted the July 3 ride into third. Chromag Bikes, North Shore Billet, Phillips Brewing Company and Delish Catering all supported the evening.
Best Golf Course: Nicklaus North
The legendary Golden Bear pedigree rubbed off on Nicklaus North once again.
The Jack Nicklaus signature golf course, which opened for play in 1996, was easily the favourite among local duffers, making it a repeat winner.
Nicklaus North has yardage of 6,925 yards from the championship tees, so even well-travelled golfers need a few rounds to deal with the challenges the course can set out. However, the course also offers tees that are shorter distances from the pin, so those out for a leisurely game to get away from it all can enjoy 18 holes there as well.
Director of golf Andrew Smart said the employees at the course strive to maintain the top-notch conditions for visitors.
"We work hard to make the golf course accessible and playable for the general public," Smart said. "We're have a good team here that works hard to get the golf course in the best possible shape."
The courses rounding out the top three also received impressive support from their fans.
Whistler Golf Club, with a course designed by another legendary golfer in Arnold Palmer, took second spot on the list. Palmer's first Canadian design is slightly shorter than Nicklaus North at 6,722 yards, but can provide similar satisfaction to a challenge-seeking player.
The Chateau Fairmont Whistler Golf Club was the third-place finisher. The Robert Trent Jones, Jr.-designed course is 6,635 yards in length.
Best Sports Event Of 2014: Crankworx
Crankworx has long been a summer staple for Whistlerites — so much so that for sports fans, it's their favourite week of the year.
The 2014 edition brought some additional excitement with local rider Finn Iles, who was just 14, launching a campaign to be allowed to enter the Whip-Off World Championships (which he later won, to boot).
"That was probably the best moment of my life. Just to be able to compete was an awesome moment, and being able to win was just unbelievable, especially in Whistler," Iles said.
Our summer athlete of the year, Brandon Semenuk, also sent a charge through the crowd by winning the Red Bull Joyride, while Claire Buchar took gold in the Garbanzo downhill race.
That jolt aside, the classic slate of two-wheeled action-packed events keeps riding enthusiasts returning year after year. This year's festival, held from Aug. 8 to 17, featured races for a variety of ages and abilities with kids as young as two being welcomed to take part in the Kidsworx Fat Tire Crit. Of course, this year, several of the world's top riders descended on our community to take part in events like the SRAM Canadian Open Enduro, Canada Cup Finals cross-country race, and myriad downhill races — including the Canadian Open.
Though the Ironman Canada triathlon has only been in Whistler twice, it has already made an impression, as the 2014 running took second place. The classic World Ski and Snowboard Festival landed in third spot.
Best Thing To Do While Injured: Drink
First off, here's hoping that the suggested injury time-killer isn't what led to the sidelining in the first place.
Because that would be dumb.
Moralizing out of the way, why not kick back with a couple of cold ones to dull some of the pain? Even if you're not dropping dollars at Whistler Blackcomb, you could still be supporting the local economy by quaffing Whistler Brewing Company or Howe Sound Brewing Company's latest offerings, or even by heroically hobbling down to Whistler Village's array of bars.
The second-best option, according to voters, is to bite the bullet and pass along $7.99 per month to almighty Netflix. (Hot tip: If you're all caught up on Orange is the New Black, or have tired of powering through all seven seasons of Gilmore Girls yet again, underrated gritty police drama The Shield went up recently. You're welcome.)
Voters were also the voice of reason, chiming in that "physio" is the best way to go. And, luckily, a good number of locals piped up to promote Peak Performance as the best place to get fit again.
(Honourable mention goes to "reading," but who's to say Hunter S. Thompson doesn't go better with a glass of absinthe?)
Best Fitness Facility: Meadow Park Sports Centre
Whistler residents generally enjoyed the RMOW's council, sending back all incumbents for another term in November's election.
Voters also enjoy what the RMOW offers from a fitness perspective, too, electing Meadow Park Sports Centre as their favourite fitness facility.
The 4,500-square-foot fitness centre offers separate rooms for cardio and weight training. You can visualize the practical benefits of your hard work with park views from the cardio room, which features equipment like rowers, steppers, ellipticals, treadmills, and recumbent, upright and spin bikes. Meanwhile, the weight room overlooks the aquatic centre and squash courts and contains both free weights and a selection of machines. Trainers are also available to help guide and motivate users.
The centre also includes an arena with an NHL-sized rink.
Mayor Nancy Wilhelm-Morden cited the centre's ability to appeal to a wide variety of Whistlerites as a viable athletic option.
"It may have won because there really is something for everyone," she said. "When you look at the facilities and the programming and the equipment, there really is such a wide range of services."
Whistler Core Climbing and Fitness Gym had a number of local fitness buffs in its corner, taking second place. "The Core" boasts an impressive climbing area, free weights, cardio equipment and a pair of studios available for indoor cycling, yoga and circuit training.
Whistler Crossfit, an officially licensed Crossfit gym, finished third.