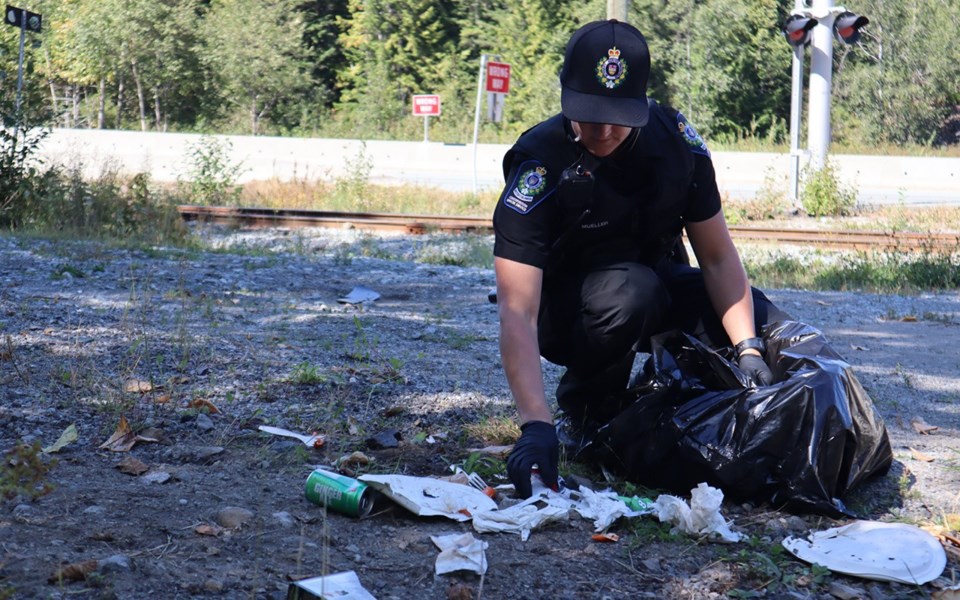 If you've driven through the Cal-Cheak area recently, you may have noticed a new, incongruous addition to the landscape: An old fifth-wheel trailer with a giant penis spray painted on it.
The flat area underneath the power lines, at the beginning of the Daisy Lake Forest Service Road, has become a hot spot for illegal dumping, a growing problem for the provincial agency responsible for cleaning up such sites in many areas in the region, including the Cal-Cheak.
Alistair McCrone, the provincial recreation officer responsible for the Sea to Sky region, said that Recreation Sites and Trails BC spends between $5,000 and $10,000 a year cleaning up garbage, vehicles, and boats from illegal dumping sites in the corridor.
To get rid of the fifth wheel, the agency will need to bring in a flatbed truck (at about $200 an hour) and then pay a tipping fee to properly dispose of it.
"I would think it would be in the order of $4,000-$5,000 to get rid of that RV," said McCrone.
"I've never dealt with something this big before... The biggest thing we have had [to dispose of] was a 16-foot boat."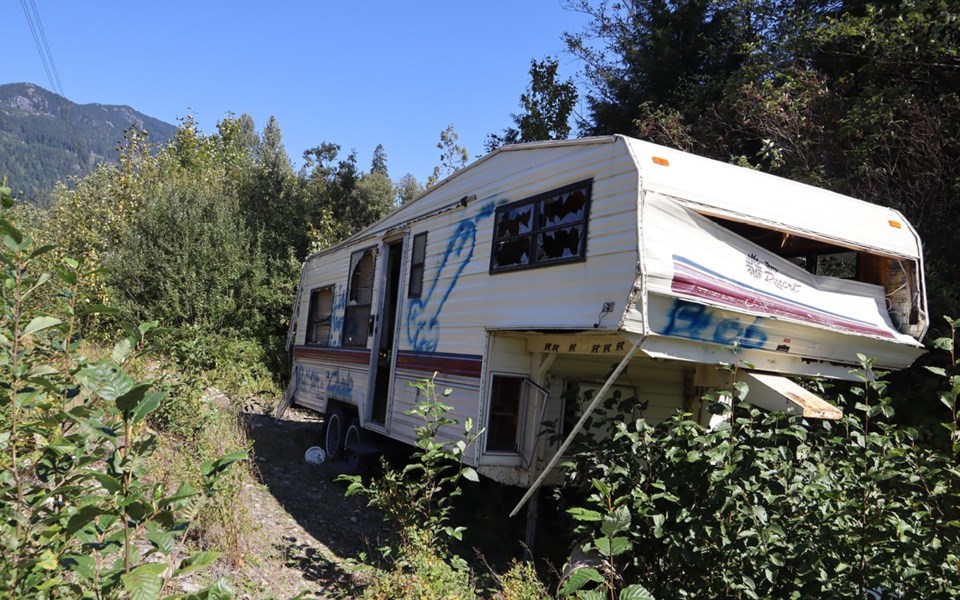 The amount of trash being illegally discarded in the corridor appears to be growing, with some dumping construction debris, like drywall and cement, and others dumping garbage, said McCrone.
"Based on my observations, I would say there is more waste and more garbage in the forest," he said.
McCrone estimates that much of the illegal dumping may stem from the fact that people simply don't want to pay for a tipping fee at places like the Whistler Waste Transfer Station, or may face difficulty finding places to dispose of larger items such as a fifth-wheel trailer.
But it also appears to be related to the growing number of people living in vehicles on Crown land in areas around the community, according to the Conservation Officer Service.
With Whistler facing an acute housing crisis—it's not uncommon to see people charging more than $700 a month to share a room—the so-called "van life" movement appears to be growing, placing added pressure on Crown land, where no-trace camping is permitted for up to 14 days.
"It seems like a reasonable assumption that if someone is leaving the country, and they have an old, run-down RV that they couldn't sell, they might abandon it," said McCrone, noting that the vast majority of people are responsible.
What's clear is that there are significant impacts on the environment.
Brittany Mueller, a conservation officer responsible for the Whistler and Pemberton areas, spends a significant amount of time on the corridor's backroads. She also sees illegal dumping as a growing problem.
Just this week, she investigated and recommended charges under the Environmental Management Act against an individual who illegally dumped a large amount of debris at a site along the Green River FSR.
Her investigation was assisted by the Pemberton Wildlife Association, which has a camera set up at the location and was able to provide photographic evidence.
The Cal-Cheak, the Callaghan Creek Forest Service Road (FSR), the Wedge Creek FSR and the Soo River FSR are all problem areas, Mueller said.
"It starts with vegetation, and then the next person might come in and leave some wood, and then the next person comes in, and it becomes drywall and tires," she said. "It's happening in places outside of public view."
Mueller said the illegal dumpers are showing "no regard" for the environment and wildlife, which can easily become conditioned to human food.
Mueller recently came upon an abandoned van at the Cal-Cheak site. It was full of garbage—and its windows were left open, making the interior easily accessible to wildlife.
"It was full of garbage—everything and anything," said Mueller, who quickly had it removed before an animal got into it.
"This person went above and beyond to try to protect their identity, removing the plates and pulling the VIN," she added.
With illegal dumping a persistent problem up and down the corridor, the Pemberton Wildlife Association (PWA) has taken a leading role in stopping it, marshalling its volunteers to clean up sites in the Pemberton area and pressuring government to develop ways to mitigate it.
Last spring, the PWA sent along a report, prepared by former Whistler Councillor Sue Maxwell, to the Squamish-Lillooet Regional District (SLRD) calling for an illegal dumping strategy.
The report also listed a host of suggestions used in other jurisdictions to mitigate illegal dumping, including yard-waste disposal, supporting organizations to clean up sites immediately, and improving communications with the public regarding where to dispose of materials.
"There is an urgent need to address illegal dumping before more land is negatively impacted," said PWA president Allen McEwan in an email to Pique.
"The longer we wait, the more work it will be to clean up the mess. Local governments and the SLRD should work towards convenient and affordable waste management options for all residents of the Sea to Sky corridor and embark on a public education program to ensure that everyone knows where to take their waste products."
The Cal-Cheak area is located within the Resort Municipality of Whistler (RMOW) boundaries.
When asked for more information on what it is doing to curb illegal dumping, staff was unable to provide comment in time for deadline.
According to the RMOW's website, it can administer fines of $2,000 to people who dump illegally.
(The public is asked to report incidents of illegal dumping to the RMOW at 604-932-5535.)
In McCrone's view, the illegal dumping the region is seeing is related to a surging interest in backcountry recreation.
He's been monitoring counters at various areas and noted a significant rise in visitation.
"I've been looking at the recreational use at a whole bunch of iconic trails and campsites," he said. "I see about a 145-per-cent increase from 2017 to 2018, and I'm expecting another similar increase this year."
And with more people coming, that means the problem of illegal dumping can naturally grow, even though it's only a small minority of people who are bad actors, he said.
"Any signage or any law gets 95 per cent compliance," said McCrone. "But the other five per cent do what they want."
Anyone who observes unlawful dumping or polluting is asked to contact the COS RAPP line at 1877-952-7277.