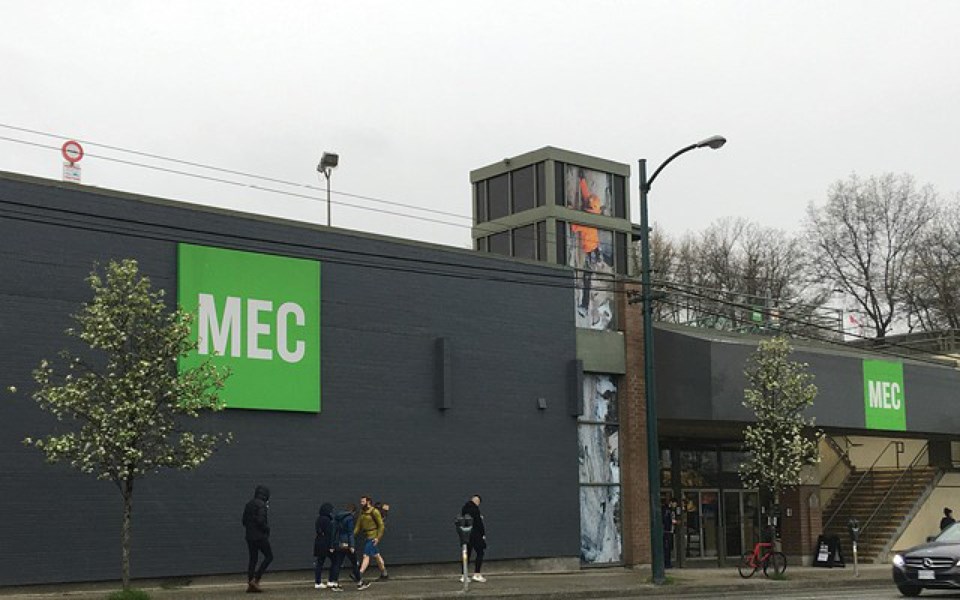 Soft sales and increasing costs helped losses climb over the past fiscal year at Mountain Equipment Co-op, reported Business in Vancouver this week.
Financial results from the iconic outdoor lifestyle retailer reveal MEC lost $11.5 million in the fiscal year ending Feb. 24. Sales totalled $462.4 million.
A year earlier the company posted net earnings of $11.7 million on sales of $454.8 million.
Former CEO David Labistour stated the company had restructured its product, operations, communications and marketing, and supply chain teams "to be more integrated and responsive."
He said the significant cost of this undertaking was reflected in the financial results.
"We need to invest and grow to ensure we have the tools and profile to compete. I believe these investments, burgeoning e-commerce operation and sustainable brand direction have set us on the right path for the future," MEC board chairwoman Ellen Pekeles said in a statement posted to the company's website.
Former Best Buy Canada CFO Philippe Arrata took over from Labistour in June, months after the close of the latest fiscal year.
Prior to taking the top job, Arrata served on MEC's board from 2015 to 2018.
U.S. company buys SilverStar Mountain Resort
POWDR, an adventure lifestyle company based in Park City, Utah, with destinations across North America, has acquired SilverStar Mountain Resort—its first resort in Canada.
SilverStar, near Vernon, B.C., has been owned by Jane Cann since 2002. She has also served as president since acquiring 100 per cent of SilverStar in 2012.
No details of the purchase price were released.
POWDR is also purchasing Silver Star Ski Resort Ltd. and Silver Star Holidays Ltd., which operate SilverStar Mountain Resort, from Cann, who will retain Schumann Resorts Ltd., which holds 30-acres of SilverStar real estate development land.
"SilverStar is a world-class destination that fits well with [what] POWDR is, what our properties are—community favourites—and our commitment to protecting and enhancing the authentic year-round adventure experience for generations to come," said Justin Sibley, POWDR co-president.
"The resort team is impressive and they have an incredibly strong relationship with the community, which we hope to build upon. We are pleased to continue Jane and SilverStar's more than six decades of fun, legacy and vision."
SilverStar joins the POWDR portfolio of 10 mountain resorts in California, Colorado, Nevada, Oregon, Utah and Vermont; the experiential action sports company Woodward; adventure experiences including heli-ski and river rafting outfitters; and the company's media and entertainment holdings.
There are no changes to SilverStar 2019-20 season passes, current operations or reciprocal agreements with other resorts.
"I am thrilled to pass the torch to such a competent and qualified operator as POWDR, [which] shares the same mission and beliefs for the SilverStar resort community and is committed to delivering memorable experiences and enhancing people's lives," said Cann.
"POWDR is an enduring company focused on patiently making each of its destinations the best version of itself locally. I am confident that their scale and expertise will be beneficial in working toward the realization of SilverStar's newly approved Master Plan."
Drugs seized over five months near Banff, Canmore, Lake Louise and Stony Plain
Cocaine, fentanyl and MDMA are just some of the illegal substances Alberta RCMP have kept off the streets in the last five months after a series of nine significant drug and cash seizures near Banff, Canmore, Lake Louise and Stony Plain.
From July to November, RCMP traffic services seized 11 kilograms of cocaine, 1.675 kg of fentanyl, 30 grams of meth, two kg of MDMA, 90.5 pounds of illegal cannabis, 250 lbs of GHB, more than $37,500 in cash and a .32 calibre pistol, according to a press release.
Officers stopped vehicles for various offences and observed numerous indicators of drug trafficking, reported the Rocky Mountain Outlook.
"These drug seizures are evidence that traffickers can be caught," Alberta RCMP Traffic Services Supt. Gary Graham said in a press release.
Officials estimated the drugs seized equates to approximately 33,000 average cocaine dosages, 16,800 average fentanyl dosages, 300 average methamphetamine dosages, 10,000 average MDMA dosages, 50,000 average GHB dosages and more than 123,300 average-sized joints.
Officials said the RCMP will continue to work very closely with our law enforcement and safety partners to keep traveling criminals and illegal activities off Alberta roads and to further reduce crime in Alberta.