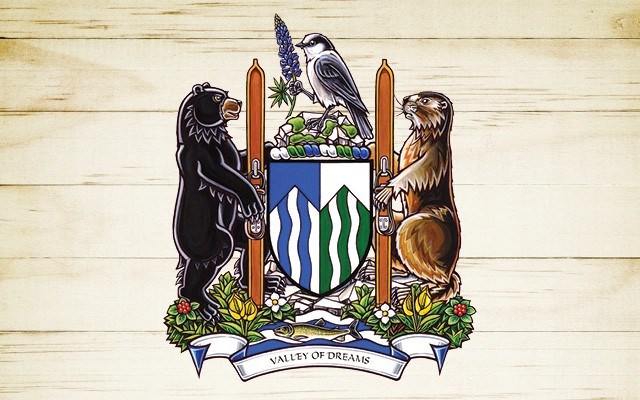 Local officials unveiled Whistler's official coat of arms this week, the result of more than two years of design work that pays homage to the resort's natural beauty, biodiversity and rich sporting history.
Mayor Nancy Wilhelm-Morden revealed the coat of arms at a council meeting on Tuesday, March 15, which will be used by the municipality for official and ceremonial purposes.
"I think it's important to have something that's lasting," she said. "Of course we've got a (municipal) logo, but logos change from time to time ... whereas a coat of arms is something a town or city has and it lasts forever. It gives an air of solemnity to certain occasions."
A seven-person committee made up of representatives from the RMOW, Whistler Arts Council, Whistler Museum and others was tasked with overseeing the project and coordinating with the Canadian Heraldic Authority (CHA) on the final design. The process was a painstaking one, Wilhelm-Morden said, as the group had to ensure the design followed the CHA's strict guidelines. The total project cost is expected to be $8,500, according to the RMOW.
The ultimate goal, explained Canada's Deputy Chief Herald Bruce Patterson, was to create a lasting, easily recognizable image that emphasized Whistler's natural beauty.
"For me, the challenge was creating something that's meaningful but also something that's very simple and original in terms of the design," he said. "(The committee) came up with lists of animals, plants and birds that could be included, and we really had to figure out which ones were the most important, which ones we would include and how we would include them. It was quite successful because I think we got most of the local wildlife in there."
Local biologist Bob Brett also sat on the committee, and gave input on some of Whistler's iconic flora and fauna that he felt should be included in the final design. (See graphic below for more details on each element of the coat of arms.)
Interestingly enough, there was much debate over the inclusion of the black bear, with Brett originally hoping for a species that would better represent Whistler's biodiversity. Ultimately, however, his fellow committee members swayed him.
"In one iteration, I was hoping for something that wasn't necessarily a mammal or a bird, like some sort of dragonfly," he explained. "My thought was, from a biodiversity perspective, I'd like us to reflect all the different kinds of life and also different kinds of habitats that Whistler has."
While these heraldic emblems have been around for centuries, they continue to be used by municipalities, corporations and private individuals across the globe. Approximately 300 Canadian municipalities have been granted a coat of arms by the CHA.
"Some people think of coats of arms as a medieval phenomenon but they are being created every year and we're always finding new ways to express this," said Patterson. "Even though Whistler's coat of arms is very new, after a few years, if the municipality uses it appropriately and uses it so people can see it, they will start to associate it with this coat of arms and it will become a symbol of pride."
After the coat of arms was approved by council at Tuesday's meeting, the next step will be to design a Chain of Office that would be worn by Whistler's mayor at official proclamations and other formal ceremonies.