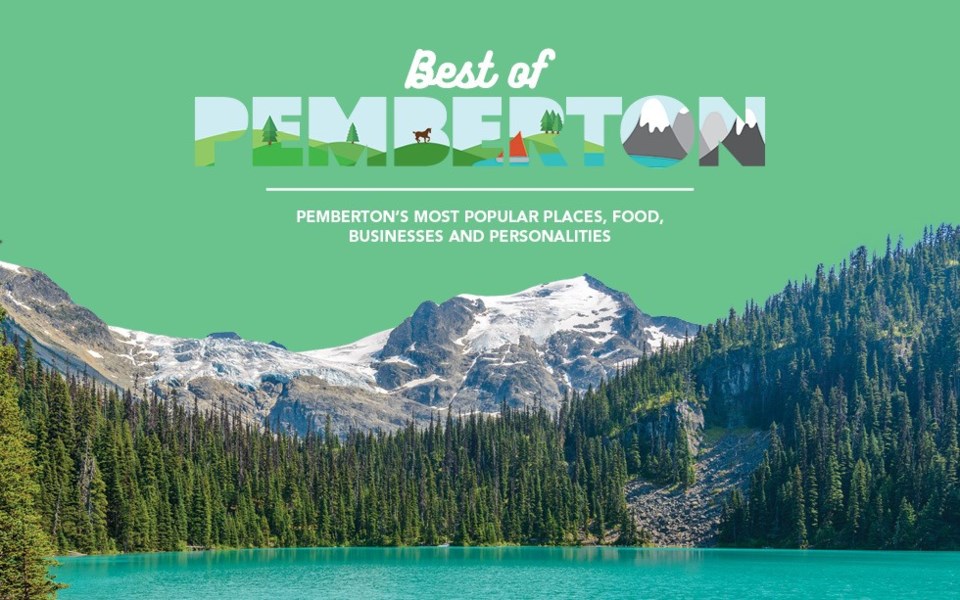 We are a society that tosses around the word awesome a lot. Those mountains are awesome. This meal is awesome. The cowboy who passed me on the street smiling was pretty awesome. Damn, these organic potatoes are awesome. But what does it actually mean? We decided to dig into the matter.
Awesome [aw-suh m] 1:

Causing or inducing awe; inspiring an overwhelming feeling of reverence, admiration, or fear.
When you gaze up at Mount Currie, you've likely felt a reverence for nature, maybe even a bit of fear, when you internalize just how small you are.
When your burger at Mile One arrives, you may have felt admiration for something so simple, done so right (and priced so... humanely).
When you ride your bike past vibrant fields, basket overflowing with farm-fresh fruits and veggies, you may have been moved by the farmers, in touch with the Earth, who share its bounty.
And you may have detected a simple, but nowadays often elusive, spark of human connection as you smiled back at the mountain bikers, the clerk at the supermarket, the cowboy.
If you've spent time in Pemberton, you've experienced it. For many who call this place home, the blissful feeling of awe never goes away.
To sum things up, we thought we'd go to the man locals voted for, once again, as their favourite local (see: People): Bob Menzel — a cowboy who smiles easily and makes time to stop and smell Pemberton's wild roses.
"There are lots of spots that have bits of what we have, but they don't have it all around them like we do," said Menzel, by way of explanation.
And so, in the spirit of celebrating all that's awesome about Pemberton, we're happy to share the "Best Of" this community's remarkable people, places, stories, and things for 2017.
Quintessential Pemberton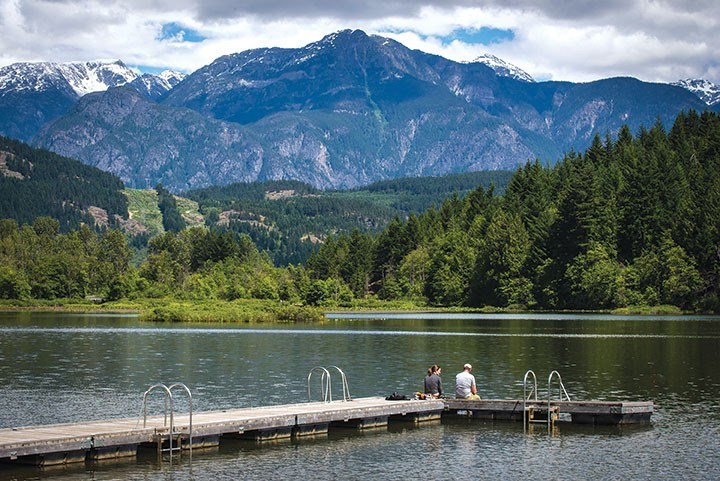 Best Place to Experience the Real Pemberton: One Mile Lake
It's naturally beautiful, brings together community, and promotes year-round outdoor recreation. In short, it's a microcosm of Pemberton. Pull up a patch of earth at One Mile Lake and take in the mountain bikers, dog parents, SUPers, joggers, picnicking families, birdwatchers etc., and it'll become clear why this idyllic, natural, community hub took the prize, once again, for being a representation of the "real" Pemberton. Taking the love of the outdoors a few steps out of bounds was "anything in the backcountry," which tied for second with Pemberton Meadows. The Pemberton Farmers' Market claimed third.
Best Daytrip Destination: Birkenhead Lake
Perennial favourite Joffre got bumped this year, with Birkenhead Lake taking top prize in 2017 for Best Daytrip. This scenic spot surrounded by old-growth forests, about 70 kilometres northeast of town, features a sandy beach, perfect for wading into the cool waters, or to launch a canoe or paddleboard. Joffre Lakes, which has put Pemberton on the map for many out-of-towners, took second. One Mile Lake, and Strawberry Point all tied for third.
Best Neighbourhood: The Glen
Once again, The Glen was named by locals as Pemberton's Best Neighbourhood. According to the community's favourite realtor (see: People) Danielle Menzel Tait, it's no surprise: "The Glen is an excellent family neighbourhood, walking distance from most amenities and services with a lovely park." Pemberton Meadows repeated as well, coming in second, while Mount Currie took over the third place spot this year.
Best Summer Event: Slow Food Cycle
With Pemby Fest no more than a dusty, hazy memory (and according to many who answered this survey, one they'd sooner forget) the Slow Food Cycle reclaims the spot it occupied in 2013 and 2014. Bringing together fresh food, farmers, two-wheeled fun, and the relaxed pace of life Pemberton has become known for, the Slow Food Cycle wins the locals' vote for the best of summer. Next came The Pemberton Farmers' Market followed by the Lillooet Lake Rodeo.
Best Winter Event: Winterfest
Bringing together everything from bonfires to dance parties to the infamous Polar Bear Plunge, Winterfest captures the hearts of locals every winter, and captured the prize for Best Winter Event for 2017. The Christmas Bazaar followed, with the Birkin Shinny Tournament rounding out the category.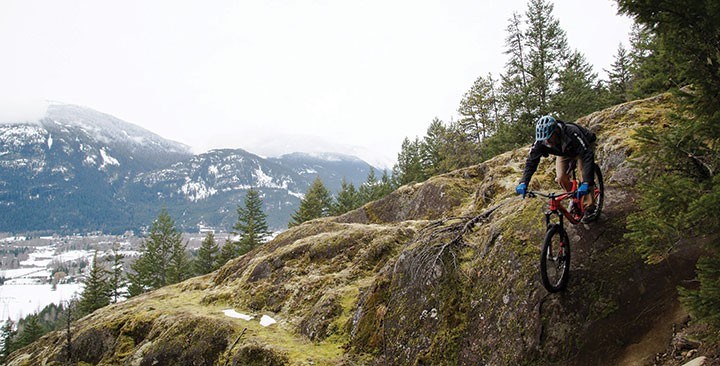 Best Pemberton Trend: Mountain Biking
While mountain biking certainly isn't new to the area, the fact it's #trending may in part be attributed to the formation of the Pemberton Off Road Cycling Association (PORCA) in April 2016. The club's motto? Bikes + Trails = Awesome. (There's that word again). Locals clearly agree. "We're pretty loosely organized, but it seems we've solidified and brought together a community that was already there," says Club President Ian Kruger. Kruger says the PORCA team has made a concerted effort to make mountain biking more accessible to female riders and beginners, likely contributing to the growth in membership and of the sport overall.
"Babies," continued to trend, taking second, while "Horseback Riding" and "Wearing Plaid" tied for third.
Mountain bikes, babies, horses, and plaid? "Yep," laughed Kruger. "Sounds like Pemberton."
Honourable mention to some great nominations, including "Being Nice" and "Finding Lost Dogs." Keep at it, Pemby.
Best Use of Money: Upgrades to One Mile lake
Given its popularity (see: Best Place to Experience the Real Pemberton), no surprise upgrades to One Mile Lake, announced earlier this year, including an upgrade to part of the boardwalk, were popular among locals. A three-way tie for second looped in the Community Centre, Water Treatment and the Water Park.
Looking at things from a slightly different angle, some voters chose to share what they think is the best use of their own money, including "Bikes," "Coffee" and one very enthusiastic vote for "Mile One Brownies - $1!!!"
Worst Use of Money: Pemberton Music Festival
This category was the first of several to highlight The Pemberton Music Festival, now dust in the wind. Its "popularity" among some was reiterated later in the answer to Best Reason to go to the Music Festival (see: Media, Arts and Culture). The influx of people seems to have been a sore spot for many. And so, farewell, Pemberton Music Festival from town, and from this annual survey. It seems there are many who won't miss you. There was a four-way tie for second between McDonald's, Roundabout Art, "Expensive Groceries," and the Community Centre, which also came in second for Best Use of Money. Clearly divisive.
Best Politician: Mayor Mike Richman
Mayor Mike Richman received the most votes in this category once again in 2017. He says he's a pretty typical local in how fiercely proud he is of this little community: "I think Pemberton's the best place to live on the planet." His modus operandi when it comes to politics seems to speak to the down-to-earth and active spirit of the town: "When I care about something, I like to get involved and get my hands dirty." B.C. MLA Jordan Sturdy, recently re-elected in the West Vancouver-Sea to Sky riding, came second. Former Mayor of Pemberton Shirley Henry and Coun. Ted Craddock tied for third.
Best New Business: Stay Wild
A relative landslide victory named Stay Wild, Pemberton's new natural health food and lifestyle store, the Best New Business in town. Opened in January 2017 by friends Nada Shureih and Leah Langlolis, the store seems to have built up a loyal following, as evidenced by the bevvy of five star reviews on the store's Facebook page. "It feels great," said Langlolis of the vote by Pique readers. "Like we're doing the right thing. The backing from the community is absolutely what's made us successful." Second place went to last year's winner Barn Nork Thai and third to Fish and Rice Sushi.
Most Desired Big City Amenity: Swimming pool
For the umpteenth year, Pembertonians continue to make their desire for a swimming pool known. Ice Rink took second in the category of Most Desired Big City Amenity, and a "Large retail clothing store" and "More Restaurants" tied for third. Coming in just behind though, resounding votes for "None!!!!" and "Nothing – that's why we are here" show some residents are happy with Pemberton as-is.
News Story of 2016: Medical marijuana
The top newsmaker of 2016 went to they bylaw passed by council regarding the restriction of medical marijuana dispensaries. This hot-button issue clearly hit a nerve over the past year, with many for and against making their voices known. Two approvals followed for top newsmaker, first of the One Mile Lake Master Plan, and finally the proposed soccer field.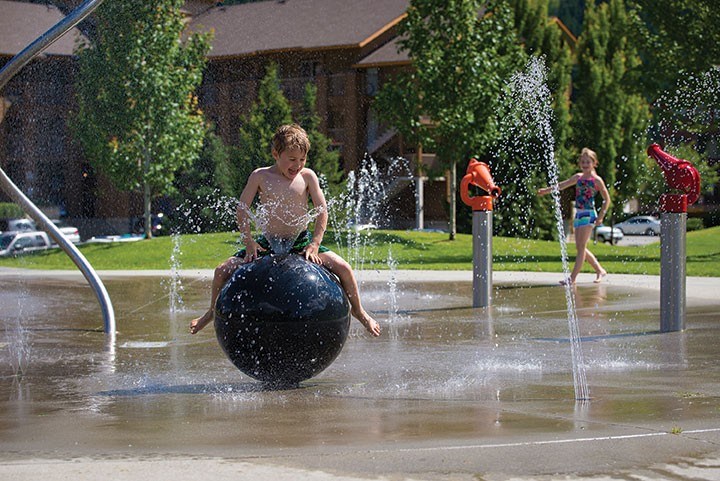 Number One Reason We Are Not Like Whistler: Community
What do locals think distinguishes Pemberton from her resort municipality neighbour to the south? Intangible and invaluable "Community" earned the most votes. Arguably similar, the "laid-back, friendly vibe" came in a close second, with "affordability" rounding out the top three. Honourable mention to the respondee who pointed out Pemberton has "More bonfires. Less Garf's."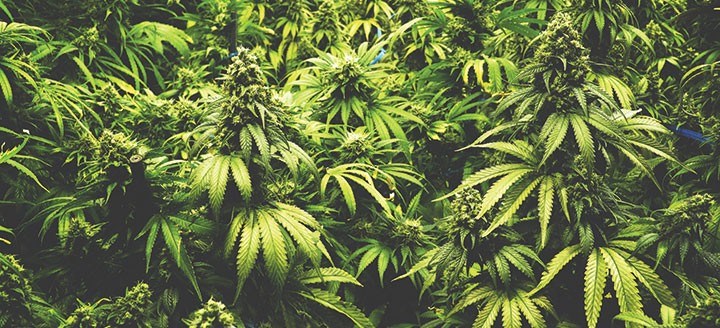 Most Dubious Decision Made by Council: Medical marijuana
The controversial bylaw restricting the sale of medical marijuana re-appears again in this category. An approved four per cent tax increase for property owners came in a close second, while the deferral on whether to grant approval for another five years to Ironman came in third.
Best Decision Made by Council: Funding for Friendship Trail
The successful acquisition of funding for the ongoing Friendship Trail bridge and route was voted the most popular decision made by council this past year, while continuing to highlight the divisiveness of the medical marijuana dispensary issue, a zoning bylaw restricting the sale of medicinal pot ahead of Ottawa's anticipated legalization, received the second most number of votes. Approval for buddy-bench funding for Signal Hill Elementary School rounded out the top three.
Example of Wild West Attitude: Horses in town
Unsurprisingly, most votes here went to a variety of horse-related items, first and foremost, "Horses in town." Second went to "Horse Hitching Posts" with third place occupied by both the rodeo, as well as the man behind Adventures on Horseback, and Favourite Pembertonian (see: People), Bob Menzel.
Best Place to Spend Your Last $20: Mile One Eating House
If you don't know, now you know. And this will become even more clear as this survey goes on. Pembertonians love Mile One Eating House. In fact, if it came down to the last $20 in their wallet, they would head straight to this much-loved resto and spend every last dime buying a Pemby Burger, a side of wedges, a craft beer from its winning selection (see: Food and Drink), and finish it all off with a $1 brownie (or some other delicious combo of food). Other great options for the bill burning a hole in your pocket: Mount Currie Coffee Co., which narrowly beat out Blackbird Bakery for second.
Media, arts & culture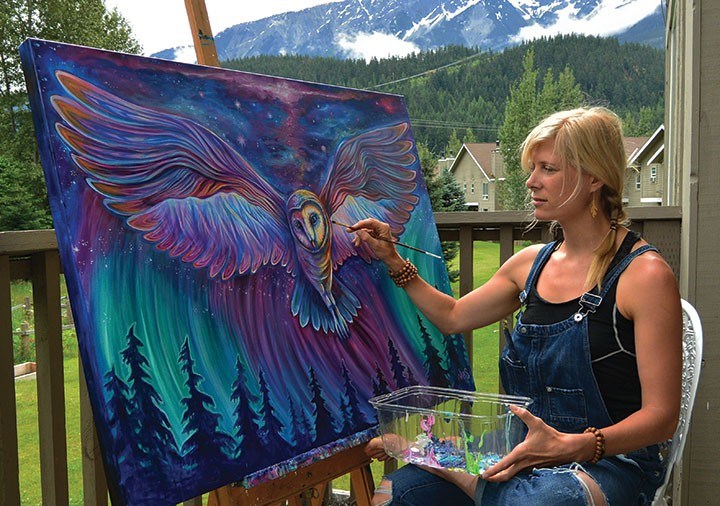 Next artist who should have art in the roundabout: Vanessa Stark
Pembertonians want to see more of their favourite artists, that much is clear. Vanessa Stark, known for her vibrant, nature-inspired paintings, won both Favourite Artist (see below) and the artist whose vision locals would most like to see beautify the roundabout. This was a repeat win for Stark. Second place was once again taken by popular artist Karen Love, and Natalie Livermore rounded out the top three.
Favourite Artist: Vanessa Stark
She says her life has been shaped by the mountains, snowboarding and mountain biking, and for Vanessa Stark, art seems to imitate life (if you follow @vanessastarkart on Instagram it's clear Stark is a woman who walks the walk). Her colourful mountainscapes, animals and fiery skies clearly resonate with Pembertonians, as once again she's been voted the community's Favourite Artist. Asked how her community inspires her she replies: "I don't know how it couldn't! Besides living in the midst of awe-inspiring beauty, having majestic Mount. Currie in my backyard and epic mountain-bike trails out my back door, there's also the community. Pemberton is full of creative, passionate, compassionate and inspiring people. Amazing places attract amazing people, I suppose." Karen Love, known for her impressionistic landscapes, came in second.
Favourite Band/Musician: Dakota Pearl
Known as B.C.'s fastest rising country rock band, Dakota Pearl takes the honour of Favourite Band/Musician again this year. The quintet, made up of Adam Leggett (lead vocals), Rosalind Steele (keyboards), Dave Trimble (lead guitar), Bryce MacDiarmid (drums), and Gavin McDermott (bass), has been earning kudos across Canada in recent years, so it's no surprise Pemberton residents wanted to add a "Best Of" in their hometown to the list of accolades. DJ Rich-A, who's been touring North America with Canadian hip-hop artist SonReal, earned the second highest number of votes, followed by 4q2.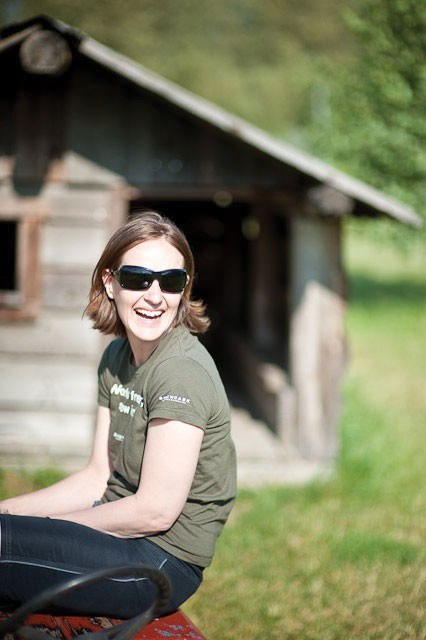 Favourite Local Writer: Lisa Richardson
Lisa Richardson, forever! This seems to be the rallying cry of Pembertonians, who've voted Richardson as their favourite local writer for the umpteenth time. Since this is a community who loves her words so much, we thought it would be fitting to have her share a bit of love for the town. We asked her to finish this sentence:
Pemberton is...."My happy place.
"It clicked for me about 15 years ago, when a cowboy rode by as I was walking into town and asked, "Which way to the beach?" I still have no idea what he meant, but it was random enough that I thought: here. Choose here. Make your home here. I think it was at a time in my life where I still thought of this as just a waypoint or a stepping stone to somewhere bigger, shinier, grittier, more urban.
"It's fertile ground for a creative person — not just for all that mixed vegetable, garlic and spud growing. Especially as I've come to realize how important the body is to being creative, how invaluable it is to have nature at your back door. All those years ago, my husband said he wanted to live in a place where he had world-class recreation literally out his back door, and I was like, that's so audacious, that just doesn't exist. And yet here we are."
Follow along with her adventures in the written word at lisarichardsonbylines.com and her Question column "The Velocity Project."
Second place in this category went to Katherine Fawcett, who received a hefty dose of praise this past year for her book of short stories, The Little Washer of Sorrows.
Best Reason to go to the Music Festival
Consider this next category a continuation of Worst Use of Money (see: Quintessential Pemberton). The music festival in question is, of course, the now defunct Pemberton Valley Music Festival. The No. 1 reason respondents gave to attend? Most people couldn't come up with any, with "None" garnering the most votes. The slightly more enthusiastic "The music!" came in second, while third place went to "HAHAHA." Moving on.
Best Reason to Stay Home from the Music Festival
OK, not moving on just yet. "Master of the Obvious" won this category with "Because it's cancelled" while second and third place hint at the overarching public opinion noting "Too many people" and "Chaotic crazy people" as reasons to steer clear of the infamous fest.
Food and Drink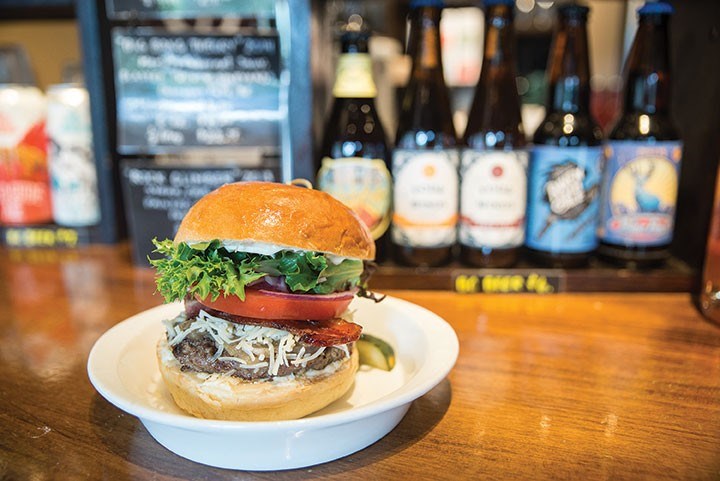 BEST BURGER: MILE ONE EATING HOUSE

How passionate are people in Pemberton about their burgers? Chew on this: the winner of this category garnered more votes than any other category. And so, the ballots have been cast and the people have spoken. The Best Burger in town can be found at Mile One Eating House. Next best? The Pony, followed by The Black Squirrel Restaurant & Pub.
Best Place to Have a Pint: The Pony
The Pony took a commanding win for the best local spot to kick back and have a cold one. Chef and GM Neal Harrison says it comes down to variety: "We have 12 local craft beers and over 60 different bottles of beer from all over. Plus we're constantly changing our taps, so there's always something weird and wonderful to be had." Mile One Eating House came in second, just ahead of The Black Squirrel Restaurant & Pub.
Best Overall Eatery: Mile One Eating House
Pemberton loves Mile One Eating House with a passion. So much so, that it took the win for nearly half the categories in the Food and Drink section, including Best Overall Eatery. Chef and Owner Randy Jones says it's an honour to have his team's passion, energy and long days recognized by the community. After seven years in business, he says staying on top of their game is about staying true to their values, and finding ways to grow without sacrifice: "In some ways what we do is simple, but there's depth and layers to our food and our service, and we're really proud of that." Newcomer Barn Nork Thai Cuisine tied for second with The Black Squirrel Restaurant & Pub. The Pony rounded out the list in third.
Best Value: Mile One Eating House
In describing his beliefs about creating balance for his employees (Mile One is closed on Mondays and Tuesdays) Owner Randy Jones said "there's more to life than just money." It's a philosophy that seems to extend to his overall business operations, and one recognized by local diners, who voted overwhelmingly for Mile One Eating House in the category of Best Value. Barn Nork followed in second, while The Black Squirrel Restaurant & Pub, Lynx Café and The Pony tied for the third spot.
Best Cocktail Technician: Chris Nathan
When it comes to cocktail alchemy, The Pony's Chris "Shakey" Nathan appears to have the elusive formula, winning Best Cocktail Technician by a landslide. A three-way tie for second included "The Black Squirrel Restaurant & Pub," plus a couple more reasons to stop by The Pony, including "Drew at The Pony" and simply "The Pony." Even more reason to stop by the winner for a cheeky one? They're getting ready to launch a new cocktail menu.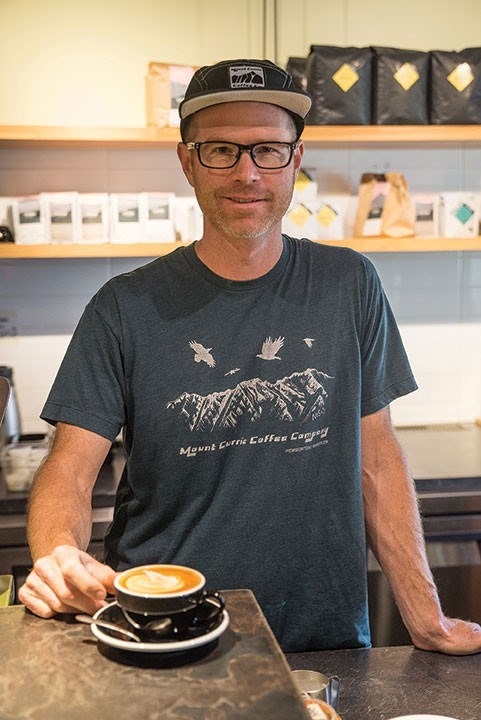 Best Cup of Joe: Mount Currie Coffee Company
What makes Mount Currie Coffee Company's java so good? According to owner Chris Ankeny, it comes down to craft. "There's so much that goes into it, from farm to cup. We source the best coffee we can find, then we really pay attention to the details and make sure we're doing the coffee justice." Locals clearly agree, voting MCCC best in Pemby. First runner up is Blackbird Bakery, with Lynx Café and McDonald's tying for third place.
Best Beer Selection: Mile One Eating House
Mile One is also the spot voted by locals with the best assortment of beers on offer. The Pony, already voted best place to have a pint, took second for selection, while The Black Squirrel Restaurant & Pub took third.
Best Dessert: The Pony
"It's probably our Sticky Toffee Pudding that won it," says Neal Harrison, The Pony's chef and general manager about what he thinks won them the accolade. "We make it with Earl Grey Tea, so the flavours are really unique. Add in chewy dates, hot butterscotch sauce, ice cream, and whipped cream...what's there not to like?" Blackbird Bakery is Pemberton's second favourite place to satisfy a sweet craving, and Mile One Eating House was third.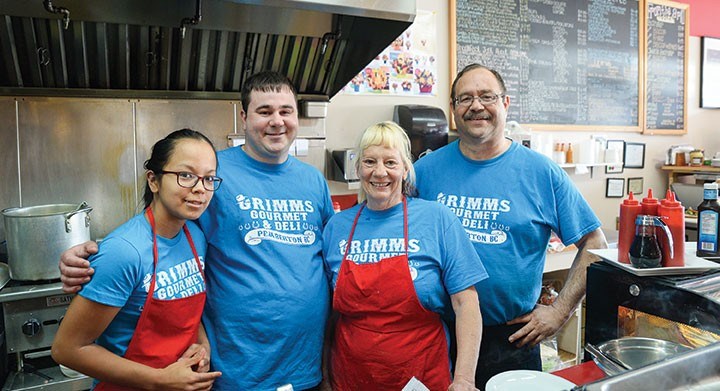 Best Breakfast: Grimm's Deli
Grimm's Deli garnered the most votes for Pembertonians' favourite place to break their fast, with online reviews praising everything from their blueberry muffins to the breakfast skillet, with many additional shout-outs to the warm service. Mount Currie Coffee Co. took second in the morning kickstarter category, and The Pony third.
Best Steak: The Pony

Serving up Blue Goose organic beef, The Pony takes the prize for Best Steak, a distinction the owners credit to "Chefs that do a great job of working with a fantastic product." The Black Squirrel Restaurant & Pub is your next best spot to go for a great steak, or try Mile One Eating House.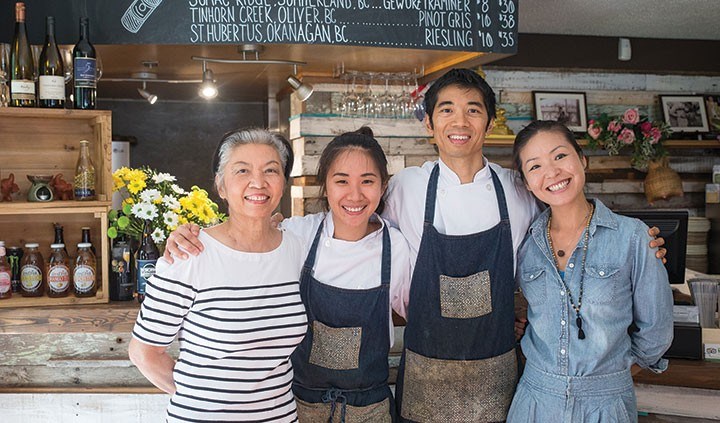 Best Takeout: Barn Nork Thai
Barn Nork Thai just celebrated its one-year anniversary in May. Taking the prize for best takeaway? Icing on the cake. Owner Janice Sriwantan says their most popular takeout items are the pad Thai, the green or Massaman curry, and the spring rolls. Next up for Best Takeout was Mile One Eating House, followed by Centennial Café.
Best Service: Mile One Eating House
If you've found yourself amidst the dinner rush, you know. Mile One Eating House has great service that simply makes it work. Pembertonians voted it No.1, with Barn Nork Thai taking second, and The Pony third. Special mention to the voter who nominated themselves, and everyone else in Pemberton for that matter, by casting a ballot for "gas station, self service."
Best Server: Craig Blainey
As winner of Best Service, it's no surprise Mile One Eating House is also home to Pemberton's favourite server. Next time you pop in for a burger, give Craig Blainey a high-five. What makes him the best? His boss says it's his connections to the community. When not at Mile One, Blainey volunteers for the local fire department and builds mountain bike trails. Just one vote behind, a big congrats also to Kelsey Phare at The Pony.
Best Bartender: Chris and Drew at the Pony
First place in this category was a tie between Chris and Drew at The Pony. In summary: if you go for a drink at this winning spot, odds are you're going to have a great bartender. Second place went to the staff at Big Sky Golf Course and Mile One tied with The Black Squirrel Restaurant & Pub for third place.
Best Chef: Randy Jones and Erin Kerr
While Randy Jones from Mile One Eating House was voted Best Chef, turns out (plot twist!) you were actually voting for Erin Kerr. The chef you didn't know you loved, Kerr took over the reigns this past year and has been cooking up a storm and keeping Mile One's reputation going strong ever since. Second place went to Malcolm Pascal at The Black Squirrel Restaurant & Pub, with third going to Alexander Stoll at The Pony.
Best Place to Cure a Hangover: The Pony
"I would probably recommend a poutine and a caesar," says Neal Harrison of The Pony, the spot Pemberton locals voted as the best place to show that hangover who's boss. The Pemberton Meadows Golf Course was named No. 2, though whether on the golf course or at the bar wasn't specified. Mount Currie Coffee Company rounded out this category.
Best Patio: Fescues at Big Sky Golf Club
Want to feast on some of the best views in Pemberton? Grab a table at Fescues at Big Sky Golf Club, the best patio in Pemberton, according to those in the know. Runner up was The Black Squirrel Restaurant & Pub, with The Pony taking third for al fresco dining.
Sports and Recreation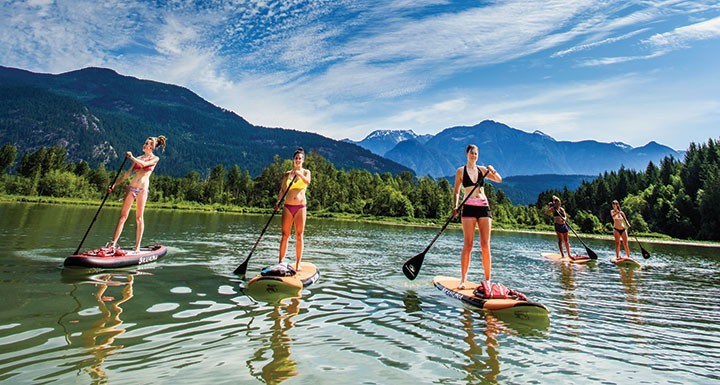 Best Place for Gazing at Mount Currie: Big Sky Golf Club
The battle for best views of the iconic Mount Currie was a tight one, with Big Sky Golf Course taking the honours by just one vote. Next in line? "My/Your House," highlighting the fact that the majesty of the mountain extends to most corners of the valley. The Meadows at Pemberton Golf Course came in third.
Best Golf Course:The Meadows
The duel for Best Golf Course waged on this year, with The Meadows at Pemberton Golf Course upsetting last year's winner, Big Sky Golf Course, who takes second in 2017.
Best Bike Trail: Cream Puff
With a veritable smorgasbord of bike trails to choose from, Pemberton's riders managed to narrow it down to a favourite, though the results were close. The winner? Cream Puff. According to PORCA's Ian Kruger, the variation in this black diamond singletrack trail is what makes it so special. "It's a classic, and pretty uniquely Pemberton with a long, consistent rock roll. There's something for everybody, from intermediate to expert." A three-way tie for second lumped together Fat Tug, Happy Trail and Nimby. Third went to the Pemberton Trail loop.
Best Hiking Trail: Joffre Lakes
If the number of nominations is any indication, Pembertonians love to hike, and we're spoiled for choice. But where's the locals' favourite place to make tracks? Joffre Lakes. Lumpy's trail took second with hiking in the One Mile Lake area just behind in third.
Best Indoor Sport: Yoga and Basketball
What do Pembertonians do when they're not out in the elements? Many hit the yoga mat or the basketball courts (tied for first), or join in a game of indoor volleyball. These three edged out last year's number one indoor activity, "baby-making." We'll leave you to ponder what that means for the future of Pemberton (note that "sex" did appear later, though was tied with "badminton.")
Best Lake: Birkenhead Lake
Birkenhead Lake, also voted Best Daytrip (see: Quintessential Pemberton) usurps this category in commanding fashion, with Anderson Lake taking second, and One Mile Lake being named the third most popular lake in Pemberton.
Best Place to Run a Toddler: The Waterpark
Mirroring last year, The Waterpark solidifies its reputation as the best place to bring your toddler to expend some energy, followed by One Mile Lake and the Community Centre.
Best Activity to Take Part in at One Mile Lake: Paddleboarding
What's the best way to experience the best place to experience the real Pemberton (as voted earlier)? Pembertonians have taken to paddleboarding in this idyllic spot with gusto, while swimming and walking continue to be popular in second and third spot.
Best place to ride your dirt bike or ATV: The Hurley
Pembertonians like to get out there, and adding a motorized toy to your quiver makes getting the heck out of Dodge that much easier. The Hurley, known for its breathtaking vistas, won the vote resoundingly for the best place to make tracks on a dirt bike or ATV. Keeping things a little more local, the Green River Motocross Park tied for second with Lillooet Lake, with Pemberton Meadows earning the final spot on the podium.
Best place to ride your horse: Pemberton Meadows
Picturesque Pemberton Meadows received the most votes for horseback riding, though in keeping with the local Wild West spirit, "In Town" took second place. Third was "anywhere."
Best place to snowmobile: The Hurley FSR
Locals' favourite place to sled through the winter months was a close finish, with The Hurley Forest Service Road narrowly edging out the Pemberton Ice Cap and The Rutherford.
Best golf hole: 19th hole — anywhere!
Seems Pembertonians aren't picky, with the "19th hole, anywhere," earning the most votes. For those unfamiliar with golf slang, the 19th hole is a bar or restaurant near the golf course. So for this category, perhaps it's best to refer back to the Food and Drink section for some post-golf, watering-hole inspiration, or head straight to The Black Squirrel Restaurant & Pub at Pemberton Meadows, which took third spot behind an actual golf hole, the fifth, a deceptively tough par 3, at Big Sky Golf Course.
People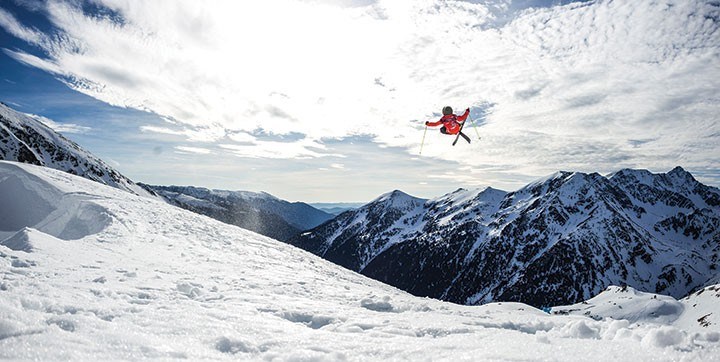 Best Photographer: Dave Steers
Who's Pemberton's favourite shutter-bug? David Steers earns this distinction in 2017. Amie LeBlanc takes second, while Toshi Kawano rounds out the top three.
Favourite Pemberton Athlete: Logan Pehota
In some places, people say there's something in the water. In Pemberton it's more likely there's something in the water, soil and air. Maybe even the potatoes. This place knows how to churn out pro athletes that are forces of nature. Freestyle and freeride skier Logan Pehota was voted Pemby's favourite for 2017. The progeny of the legendary Eric Pehota, Logan's already well on his way to making his mark in the ski world at the age of 21. Tied for second was skier Austin Ross and mountain bike and BMX racer Lucas Cruz took third.
Favourite Farmer(s): The Helmers
The roots of farming truly run deep at Helmer's Organic Farm. "My great grandpa started the farm in 1900," says Jenny Helmer. The family now grows 18 different varieties of potatoes. As Pemberton grows, Jenny says it's interesting to see the shifting role farms play. "I think people are realizing more and more the value of food producing land. It's something that keeps giving — if you take care of it, you will always be able to take food off it." Andrew, Budgie and Kerry from Laughing Crow tied for second place with the Van Loons' family farm, taking third.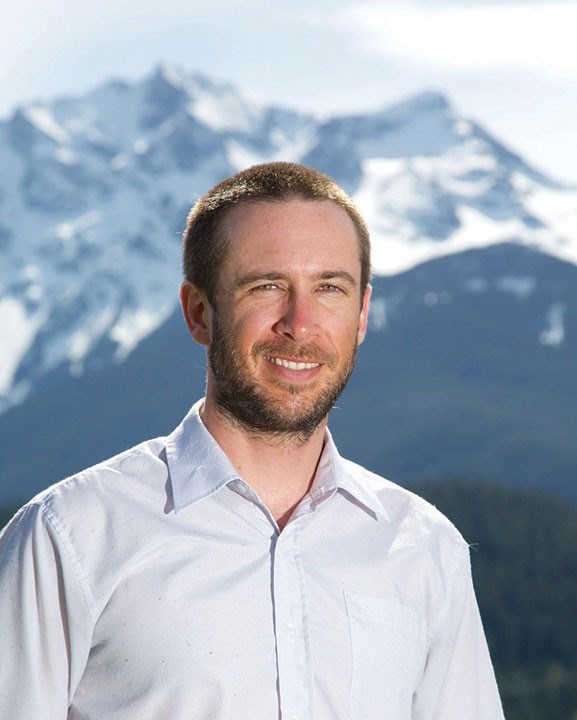 Favourite Doctor: Dr. Andrew Finnigan
Dr. Andrew Finnigan received the most votes for Pemberton's Favourite Doctor. Dr. Tony Ho Chen came second, and Dr. Jim Fuller and Dr. Nick Fisher tied for third.
Favourite Therapist (Massage Therapist, Physical Therapist, Chiropractor, etc...): Dr. Heather Munroe
For keeping locals from getting too bent out of shape while pursuing all their outdoor endeavours, Dr. Heather Munroe, Chiropractor, earns the title of Pemberton's Favourite Therapist for 2017. Fellow Chiropractor Dr. Shannon Paul came in second place, while Vicki Powell, Physiotherapist at Tall Poppy Therapy, came in third.
Favourite Dentist: Dr. Ray Krumme
Dr. Ray Krumme takes the honours of being named Pemberton's Favourite Dentist working out of the Lil'wat Health and Healing Centre, while the team at Pemberton Valley Dental, specifically Dr. Cheryl Tuira, earned the second most votes. The team at Big Sky Dental came in third.
Favourite Veterinarian: Dr. Laura White
Dr. Laura White of Pemberton Veterinary Hospital earned this distinction once again, while her entire team were given a nod as well, coming in second.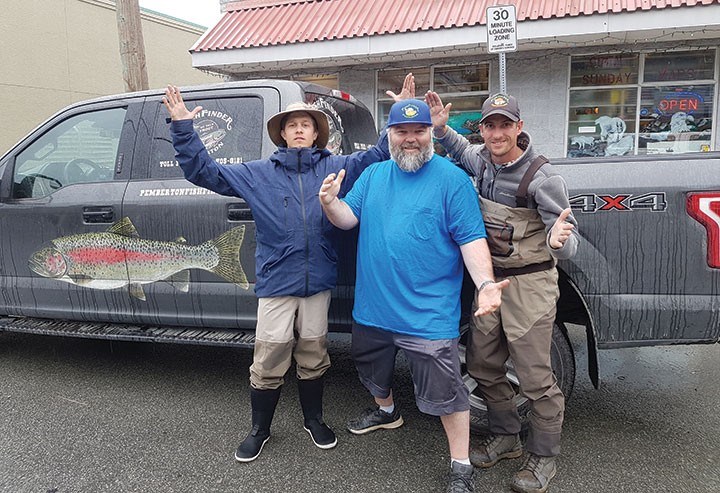 Favourite outdoor guide: Brad Knowles
Looking for a fishing guide? Locals and visitors seem to agree, Brad Knowles of Pemberton Fish Finder's your man. Told of the win Knowles said: "Thank you for the award. I owe a ton of my success to my team. A special thanks to Melissa Knowles, our booking agent and scheduler, guides Scott LeBoldus, Matt Prosdocimi, Riley Johnson, Matthew Slater, Ben Davies and Kyle Jones. I have the greatest team in the corridor. I would also like to thank my pro-staff teams that include Rapala, Griffin International, Cortland, Cheeky Fishing, Outcast sporting gear, Superfly, Dr.Slick and Ryder Sunglasses."
For close encounters of the equine kind, seek out Bob Menzel of Adventures on Horseback, who came in second in this category. Julie Ann Chapman of She Shreds, billed as "the ultimate women's snowmobile clinic retreat in the world" tied for third with Sylvie Allen of Sweet Skills Mountain Bike Coaching.
Favourite hair stylist: Kaitlyn McNary
Mynt Salon is clearly the locals' favourite salon for a new 'do, with all three top stylists coming from this spot. Kaitlyn McNary received the most votes again this year. Tara Kandulski and Roxann Wallace took second and third, respectively.
Favourite Volunteer: Julie Kelly
If you Google "Julie Kelly Pemberton volunteer" it becomes pretty clear why she received the most votes. Kelly seems to be a helping hand with her fingers in a lot of pies in Pemberton. Others recognized for their service in the community were Arlene McClean and Keegan Andrews who tied for the second highest number of votes, plus Holly Nunn, Mike Richman, Pat Mackenzie, and Shirley Henry who tied for third. Go you good things!
Favourite Pembertonian: Bob Menzel
When asked what he thought about being voted Pemberton's favourite resident (again), Bob Menzel laughed: "I must be the only person people know... My wife can't believe it." Humility aside, his winning approach to life is pretty simple: "I try and be friendly and enjoy people around me...it doesn't matter if I've never seen them, I'll always say 'hi.' Just a smile helps."
Favourite Retail Worker: Sheena Lahue
Sheena Lahue at One Earth Collection topped a long list of nominees for locals' Favourite Retail Worker. Brent at The Pemberton General Store took second, while Al Bush at Valley Chainsaw took third.
Shops and wares
Favourite Realtor: Danielle Menzel Tait
"Not everyone gets to do their dream job in a place they love," says Danielle Menzel Tait, whose passion for her work clearly translates to her clients, as she was once again voted Pemberton's Favourite Realtor. Lisa Korthals earned the second highest number of votes. Erin McCardle Stiel once again occupied the third place spot.
Best Customer Service: The staff at Pemberton Valley Supermarket
One thing's for certain — with a relatively huge number of votes coming in in this category, Pemberton has great customer service and a strong desire to reward those who're putting themselves out there day after day. In a close final, the staff at Pemberton Valley Supermarket came in first, Barn Nork Thai second and the friendly folks at Mount Currie Coffee Co. third.
Best Value for Money: Mount Currie Coffee Company
In the overall Best Value for Money category (not to be confused with the Best Value category in Food and Drink), Mount Currie Coffee Company came out on top, a first for the coffee shop. Second place went to Mile One, while third was a tie between Lynx Café and "Outdoors or the lake. It's free." Something for everybody.
Best Hotel/Bed and Breakfast: Pemberton Valley Lodge
Best place for visitors to rest their weary heads after taking in the best of Pemberton? The Pemberton Valley Lodge was the clear winner in this category, though a strong number of votes came in for both the Greenwood Country Inn and the Log House B&B. in second and third respectively.