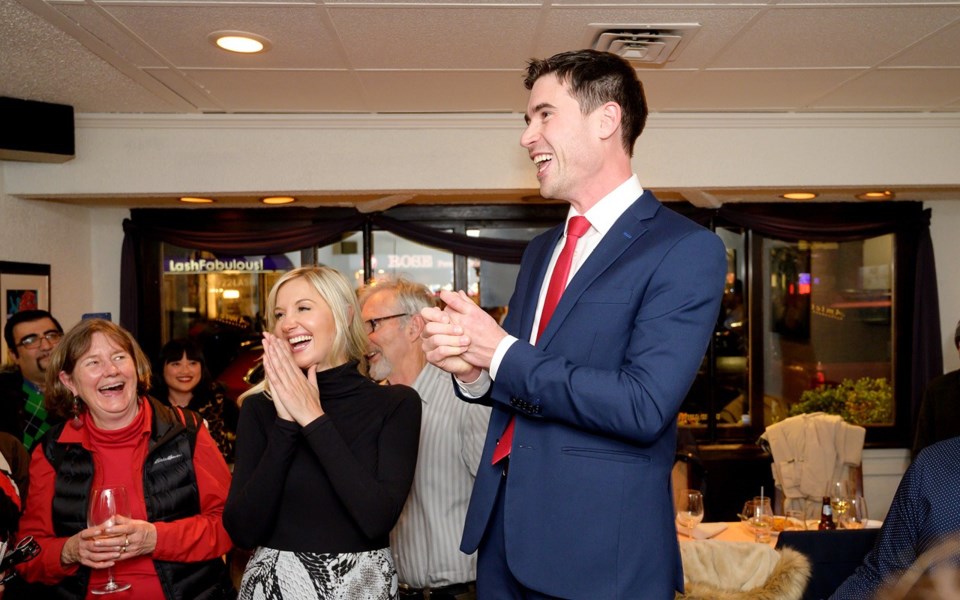 As the final results of Canada's 43rd election rolled in on Monday, Oct. 21, two things were abundantly clear: Canada is a country with deep, and widening, political divides, and Prime Minister Justin Trudeau has his work cut out for him in navigating them with his new minority government.
Nationally, Trudeau's Liberals took 5.9 million votes (33 per cent of the vote)—good enough for 157 seats—while the Conservative Party of Canada took the popular vote with 6.1 million votes (34 per cent) and 121 seats.
In the Sea to Sky, Liberal Patrick Weiler emerged victorious after what began as a tight race between himself and Conservative candidate Gabrielle Loren.
"It feels incredible," Weiler said shortly after the riding was called for him.
"I'm just so thankful for all the support I've had from an amazing campaign team, amazing volunteers, and I'm just really humbled and grateful for the trust that the West Vancouver-Sunshine Coast-Sea to Sky Country riding has put in me."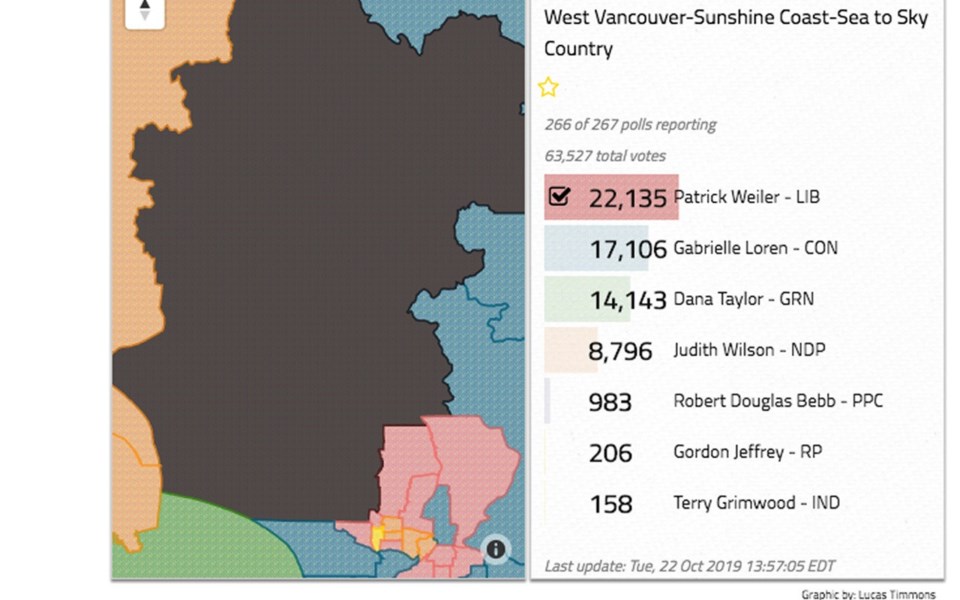 Weiler took 22,135 votes to Loren's 17,106—a big drop from the 36,300 that outgoing MP Pamela Goldsmith-Jones commanded in 2015, but enough to secure the riding for the Liberals.
Canada's new minority parliament will require cooperation, and the 33-year-old political rookie feels his experience as an environmental lawyer will serve him well in that regard.
"I think that's something that I've heard a lot of people mention throughout the campaign—they really want to see people work together better, and so this is really going to be where the rubber hits the road," Weiler said.
"For me, throughout my career I've had a chance to work with business, with [non-governmental organizations], with government and First Nations, and I think a lot of those skills will translate well to working to advance more interparty cooperation.
"I'm really looking forward to that challenge, and yeah, it will be really interesting to see how it all shakes out."
Top priorities for Whistler are affordable housing, improving regional transportation and "making sure we continue to build upon what we've done to address climate change," Weiler said.
"Those are the local, national, global challenges that I'm most excited to work on, and we have a great foundation to do that—it's really about making that work for Whistler, continue to work for Whistler, and continue to improve what's already been done."
Reached by phone the morning after election day, Loren said she wasn't surprised it turned out the way it did.
"I thought it would be a little bit closer, just because I was predicting a three-way tie [with the Liberals and Greens]," she said.
"I really thought that it would work out pretty close to the three of us being very close, and you know, when you look at the overall numbers, it's not that far off."
While the national campaign was often rooted in personal attacks and lacking in substance, the negativity didn't carry over to the Sea to Sky, Loren said.
"It was a wonderful experience and I think it became that way because we were so positive in the entire campaign, " she said.
"We never went negative, we never had any inkling whatsoever to be on the attack or really even the defensive, so it was good."
When it became clear Weiler would take the riding, Loren went to his campaign celebration to congratulate him in person. While she missed him, she did get a chance to chat with his parents.
"His dad said ... 'thank you for not being negative,' and I said, 'Well we all have to live in the same community at the end of the day, so why would we?'"
For the Green Party's Dana Taylor, a third-place finish with 14,143 votes—the party's best-ever showing in the riding, and more than double the 5,907 votes it garnered in 2015—is small consolation.
"We were all hoping for something better but third place is an improvement over what we did in the past, so that we're certainly grateful for," Taylor said.
"We run to win, so I have to say, that was high on the list of expectations but I think that at the same time, this riding has been voted very traditionally... and for that reason, one has to be cautious."
The momentum of worldwide climate marches during the campaign translated to one extra seat nationally for the Green Party, but did not fully extend to the Sea to Sky.
Was Taylor surprised?
"Quite frankly, yes," he said. "It always seemed to be present, it always seemed to be part of somebody's discussion, but the results tell me it certainly is not a crisis, not in the minds of people in the riding of West Vancouver-Sunshine Coast-Sea to Sky."
The NDP's Judith Wilson finished fourth, taking 8,796 votes.
"When you come in late to a race, and you haven't done a lot of groundwork in the riding itself you can't expect to walk in and capture people's imagination and their respect right away like that," she said.
"I'm not terribly disappointed."
The national results are good for Canada, she added, noting that a minority government "is a time when things get done," and NDP pledges like pharmacare may now become a reality.
"I don't know exactly what the priorities are going to be, but I'm hopeful we can accomplish some good things," she said.
"Whether we'll be able to get some movement out of the Liberals on climate change, we'll see."
Running in its first election, the People's Party of Canada was soundly rejected by Canadian voters, with even leader Maxime Bernier losing his seat in Quebec.
In the Sea to Sky, the People's Party's Robert (Doug) Bebb finished fifth with 983 votes.
Reached by the Coast Reporter on election night, Bebb was already stripping his election signs from Highway 99.
"I think we just lost the country," he said.
"Quebec has clearly voted in self interest. You're going to watch Alberta follow suit. And I think we're going to have a lot of division in this country now and I don't think Canada is going to last for 10 years.
"This is probably the end for Confederation."
Looking at the electoral map in the wake of Election 43—and the vast swaths of blue now blanketing Saskatchewan and Alberta—it's easy to see where Bebb is coming from.
Rumblings of Western separation, already apparent before the vote, reached a fever pitch online shortly after the election was called for the Liberals, with the hashtag #Wexit trending at No. 1 on Twitter within hours.
"We're in for interesting times, I'd say, and I'm sorry we couldn't have done better for Canada," Bebb said.
Rounding out the ballot were the Rhino Party's Gordon Jeffrey (206 votes) and Independent Terry Grimwood (152).
Voter turnout in the riding was 67.2 per cent—a big drop from the 73.2 per cent who voted in the riding in 2015.
In all, 63,501 of 94,491 registered electors cast a ballot (not including those who registered on election day) compared to 66,631 of 90,554 in 2015.
Nationally, 17.9 million votes were cast—a voter turnout of 66 per cent (down slightly from the 68.5 per cent who voted in 2015).
The results are still preliminary—Elections Canada expects to release final results in the coming days.
-with files from Sophie Woodrooffe/The Coast Reporter