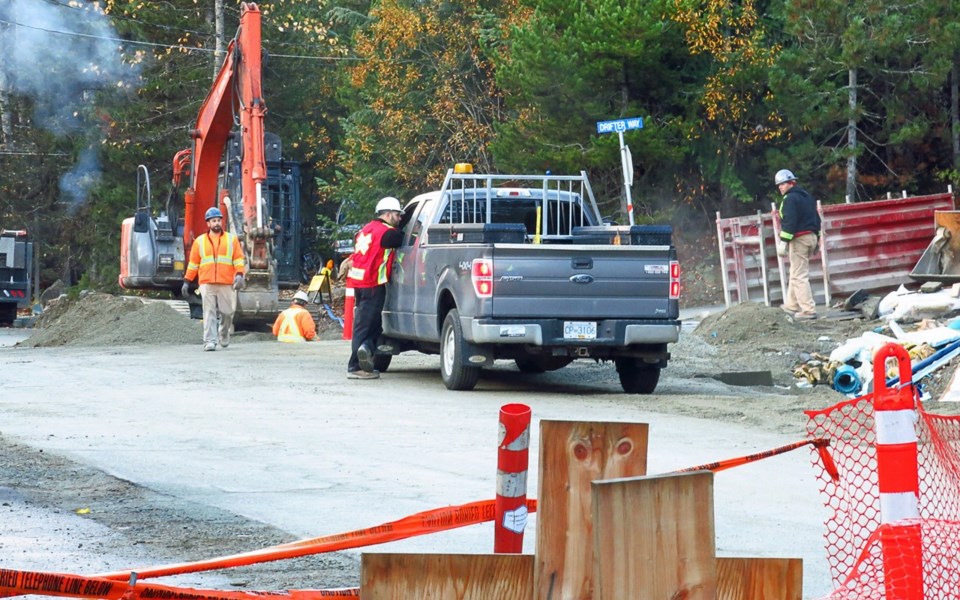 at whistler's budget open house on Nov. 12, Mayor Jack Crompton made reference to the resort being "middle-aged," and in need of some "knee replacements."
The mayor has a point. In 2020, the Resort Municipality of Whistler (RMOW) will turn 45—still a relative youngster in the grand scheme of B.C. municipal incorporation.
"Whistler is of an age. It's time for reconstruction, rehabilitation," Crompton said in a recent interview.
"It's important work. If we don't do it now it will cost more later."
To that end, the RMOW's recently introduced proposed budget places a strong focus on water, sewer and other infrastructure upgrades—to the tune of more than $50 million over the next five years.
The biggest project that local residents will notice in 2020 is the replacement of the water and sewer lines in Alta Vista, said GM of infrastructure James Hallisey.
"It's not going to be finished next year, because it's too big for that, but we're going to do a bunch of it next year," Hallisey said.
"We're replacing both water and sewer through the neighbourhood. There'll be some repaving that goes on after that, but the final repaving will all be [in] 2021."
The project has $1.7 million budgeted for it in 2020, and another $350,000 in 2021.
"It's a little bit similar to what we did in White Gold this year, but Alta Vista is just a bit of a busier place than White Gold is so it's going to have a little bit more of an impact," Hallisey said.
Residents can follow the work at whistler.ca/business/construction-project-tracker.
Another big spend coming down the pipe is the Alta Lake Sewer Project, which has $3 million earmarked for it in 2021 (along with $100,000 in 2020 and $500,000 in 2022).
The RMOW is currently looking for a design consultant, Hallisey said.
"We have a preliminary design that was done and redone several times ... we had a bunch of redesign work done in 2015, lots of different ways trying to fit it into some of the grant applications that we were unsuccessful with," he said.
"We have to take those and do a more detailed design, get to a point where we can put it out for tender and get some prices in—but that's going to be late in 2020, for construction in 2021."
There's also $4.7 million set aside for sewer lift station upgrades over the next five years, and about $13 million in total for sewer main upgrades.
"A chunk of that is for relining the trunk sewer, and some of it is underneath the CN rail tracks," Hallisey explained.
"Those are the really expensive parts to work on, because we have to coordinate with CN and put all of the equipment on rail cars and things like that."
On that note, Hallisey added that the RMOW is looking at relocating its sewer trunk from underneath the tracks (though that's a much longer-term project).
"In the long term it doesn't seem like the place you [want to] have that, but there it is, so we're kind of stuck," he said.
"Some of that $13 million is earmarked against figuring that part out, too."
In prioritizing such work, the RMOW refers to its long-term water supply and conservation plan, most recently redone in 2015, Hallisey added.
"It's due for being redone yet again, but it's usually those sort of long-term plans that we use for identifying the priorities, and we do some tests [to find out] what is the best way for us to spend our money," he said.
"Sometimes things are more immediate, like we discover a situation where there is corrosion or something going on where, OK, we need to rearrange the priority. We can't put that off for five years, we need to deal with it in the next two years.
"But usually we're sticking to those more long-term plans."
Part of the money included in the proposed budget is to update the RMOW's long-term planning for water projects, Hallisey added.
In terms of other impacts residents can expect next year, Hallisey pointed to a project to replace a sewer manhole at the intersection of Highway 99 and Village Gate Boulevard.
"We're going to have to be very careful with that schedule, because that's a really busy spot, so it will probably be next fall, is the idea," he said.
"So we'll have to try and pick a week where there's as [few] other things [as possible] going on."
While there's a loaded slate of complicated, expensive work to be done in the coming years, Hallisey lauded the experience of the RMOW's project delivery team.
"Our frontline staff sat down with the sort of four lead hands on the utilities crew last week, and the newest guy there has been in town for 14 years ... the other ones are 24, 27, 30 years they've been on the crew," he said.
"And it's like, wow, OK, ... these people know what they're doing, so that's really good."